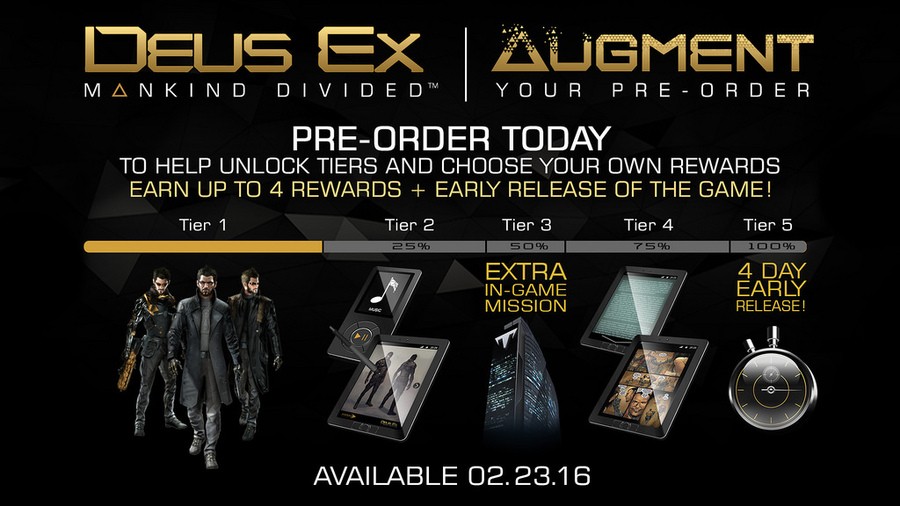 Deus Ex: Mankind Divided will release on 23rd February on the PlayStation 4 – unless enough people pre-order it. In arguably the most disgusting promotional push yet, Square Enix is a running a Kickstarter-esque 'Augment Your Pre-order' initiative which will unlock more rewards as more people register their interest in the title. The final tier will enable people to play the game four days early.
But how does it all work? Well, the website's not live at the time of typing, but it seems that as the game accrues more pre-orders, extra bonuses will be unlocked. At first you'll be able to pick between three in-game costume packs for gruff protagonist Adam Jensen, then you'll need to select between a digital art book or soundtrack, and so on. The whole promotion seems built around fans viral marketing the game so that all of the extras get unlocked.
Don't worry if you can't be bothered, though, as the title's Collector's Edition will come with all of the pre-order rewards, as well as some physical bonuses like the obligatory 9" statue, steelbook case, and printed 48-page art book. You can learn a little more about the 'Augment Your Pre-Order' promotion courtesy of the video clip below. Remember to give it a good ol' thumbs down on YouTube when you're done.
[source blog.eu.playstation.com, via blog.us.playstation.com]