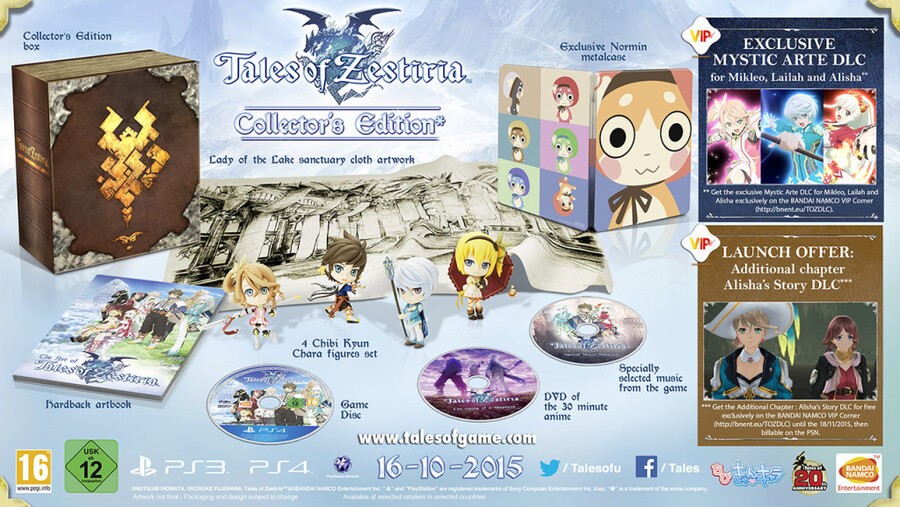 Collector's editions are fairly standard stuff at this point, but it feels like Bandai Namco's packed as much as it possibly can into Tales of Zestiria's. The upcoming action role-playing game's hitting the West this October, and it was finally confirmed for release on PlayStation 4 just last month.
So, what's in the box? To start with, you get a hardback artbook, some cloth artwork, a 30 minute anime DVD, and a soundtrack CD. The box itself will have an exclusive design, and the game's actual disc will come in a metal case. On top of all that, you also get four chibi figures of the title's main cast. Cute stuff, eh?
Now onto the more confusing stuff. If you snap the game up at launch - collector's edition or not - you'll get additional downloadable content in the form of Alisha's Story, which, in Japan, was released for free for a limited time after the title's launch. What's more, you'll also nab the Mystic Arte DLC, regardless of which edition of the game you buy.
Moving swiftly onto retailer exclusive stuff, you'll get a set of four badges for buying from specific stores, while purchasing via other means - including digitally - you'll get weapon and character costume DLC. Phew.
See anything that you like? Will you be buying on PS3, or PS4? Gather your gald in the comments section below.
[source blog.talesofgame.com]