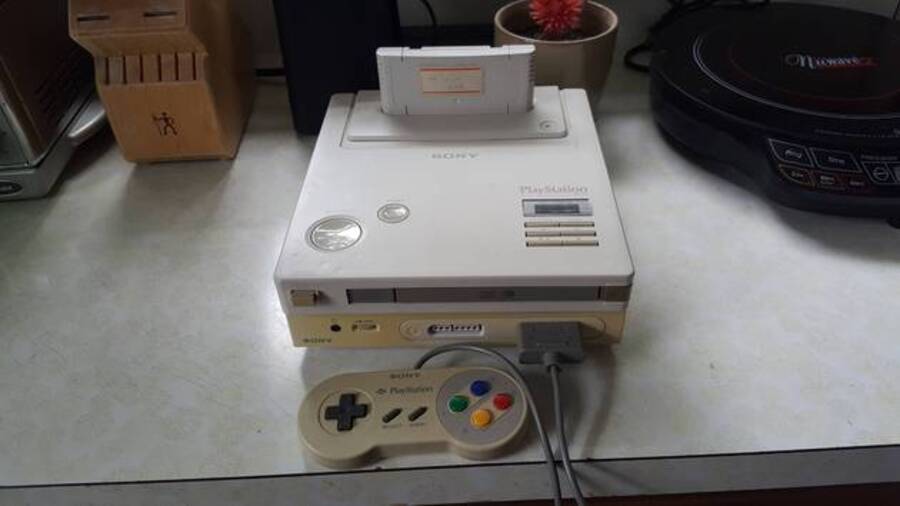 Fridays are usually pretty quiet when it comes to games journalism, probably because everyone just wants to start the weekend early and, actually, you know, play some video games for once. Apparently, though, a poster over on ASSEMbler didn't get the memo, as they've revealed the existence of an actual Nintendo PlayStation console that they own.
In case you didn't already know, Sony's PlayStation started life as a joint project with Nintendo. The original device was to act as a CD-ROM drive for the SNES, and it was going to be called the PlayStation. However, the whole thing fell apart when Nintendo double-crossed Sony to work with electronics giant Phillips instead. Of course, the House of N came to regret that decision, as Sony went on to manufacture the PSone and give birth to the brand that we know and love today.
Anyway, as mentioned, that initial prototype - the SNES PlayStation - has been found out in the wild. As you can see from the pictures that we've embedded, the console is complete with both PlayStation and Nintendo trademarks. It's also a bit yellowed.
According to the aforementioned poster, the machine was found "in a box of junk" that their dad was going to throw out. "My dad worked for a company, apparently one of the guys he used to work with, I think his name was Olaf, used to work at Nintendo," they wrote.
Doing the investigative work, our sister site Nintendo Life writes that the name Olaf could indeed be referencing Olaf Olafsson - who, at the time, was president and chief executive officer of Sony Interactive Entertainment. Needless to say, he had worked incredibly closely between Sony and Nintendo as the companies developed the now legendary SNES PlayStation.
So there you have it - the Nintendo PlayStation that never quite was. How do you think it looks? Can you a imagine a present where Sony and Nintendo are a joint force? Unleash your imagination in the comments section below.
[source assemblergames.com, via nintendolife.com]