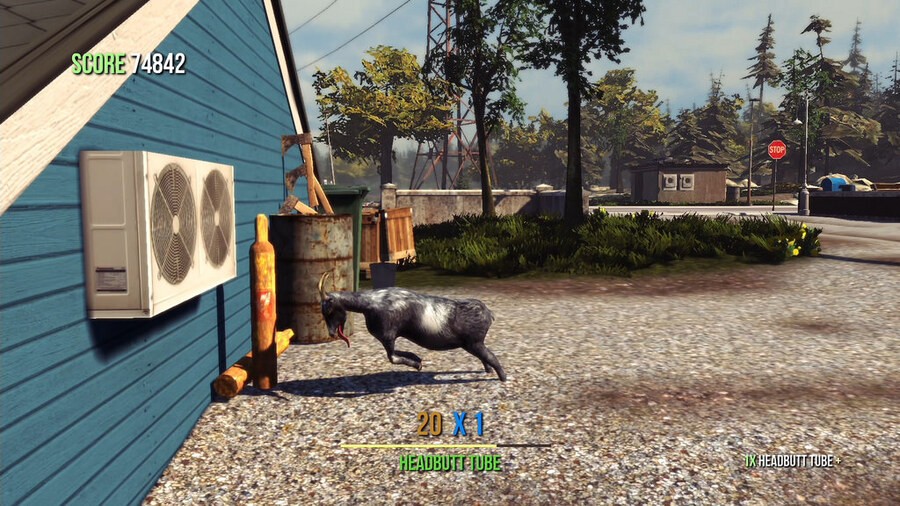 One-time YouTube smash Goat Simulator will extend a hairy hoof to the PlayStation 4 and PlayStation 3 from 11th August, developers Coffee Stain Studios and Double Eleven have announced. The animal-based adventure launched on the Xbox One a little while ago, but we've been pressing the studio about a PlayStation port ever since. Unfortunately, those non-disclosure agreements are pretty hard to get past.
For those out of the loop, this is more of a stupid sandbox than a true simulation. Playing as a kid of the furry variety you're free to explore the game's nanny (goat) state, where you can bunt walls, blow s*** up, and perform Tony Hawk's Pro Skater-esque tricks. The self-proclaimed PewDiePie bait will feature local co-op for up to two players on the PS3 and four players on the PS4. It'll also release with a rudimentary version of GoatVR.
"GoatVR is the most authentic 'simulated GoatVR experience' that doesn't require a helmet or anything," explained Mark South on the PlayStation Blog. "Although it's not quite ready yet we felt that it better to stay ahead of the crowd and let it out into the wild. We still need to do that part where it connects to an actual headset but for now you can enjoy a simulated GoatVR experience without it."
The question is: will you be butting heads with this bonkers outing, or has the ship already sailed on the indie affair? Trot out your response in the comments section below.
[source blog.us.playstation.com, via blog.eu.playstation.com]