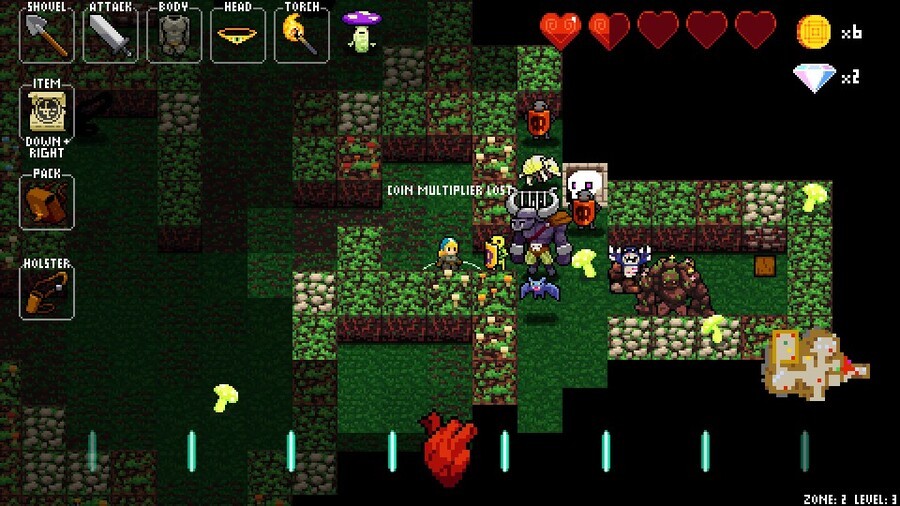 Cha-chaing from PC to the PlayStation 4 and PlayStation Vita is Crypt of the NecroDancer, a rhythm-based, roguelike dungeon crawler. "Crypt of the NecroDancer's unique gameplay and captivating soundtrack have been a hit on PC," a spokesperson wrote on the official PlayStation Blog. "We are extremely excited to make our console debut exclusively on the home of innovative rhythm and music games: PlayStation."
An odd mash-up of memorising enemies' attack patterns and going along with the music, Crypt of the NecroDancer is all about rhythm and timing. "Help our hero Cadence battle her way through the NecroDancer's dungeon in search of her missing father," the post reads. "On her way she faces methodical monsters all moving to the same beat she's been cursed to follow. Randomly generated levels offer exciting new gameplay experiences every time. You can also play as other members of Cadence's family, each with a distinctive play style."
PlayStation versions will include an exclusive, playable remix of the game's soundtrack, composed by Shovel Knight's Jake Kaufman. We quite liked his jams in that game, too, so here's to that.
Although an official date wasn't given, the developer is planning a concurrent PS4 and Vita release. Are you feeling the rhythm? Show us your moves in the comments below.
[source blog.us.playstation.com, via blog.us.playstation.com]