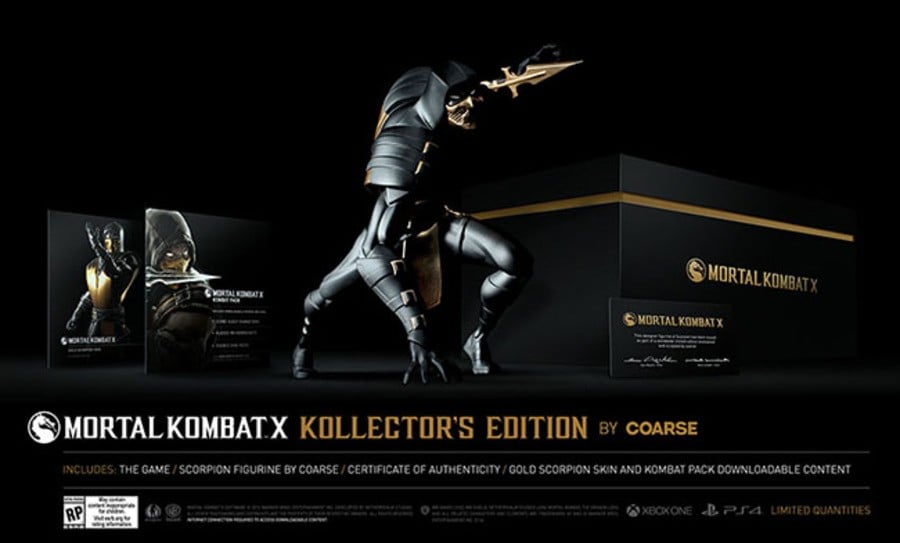 No major release is complete without a collector's edition, but Mortal Kombat X is getting more than its fair share. Warner Bros has announced a slew of premium packages that you'll be able to purchase for its forthcoming fighter, with prices ranging from expensive to very expensive. This is beyond komplicated, so bear with us while we attempt to wrap our heads around the specifics.
For starters, you'll be able to pick up the Kollector's Edition by Coarse for £99.99/$149.99. This will include a Scorpion figurine with a Certificate of Authenticity, and it'll come with an in-game skin for the aforementioned character. However, the European offering will come with a bonus Cold War outfit for the spear throwing warrior, as designed by fans on the MKKollective.com website. Alternatively, the North American edition will comprise the Kombat Pack, which will include additional playable characters and more. This will only be available on the PlayStation 4.
Phew, are you keeping up? The second option is the Kollector's Edition – note the lack of Coarse branding – which will cost you £89.99/$179.99. This will, again, include a 28cm painted Scorpion statue, as well as an in-game skin. Europe will get the Cold War character outfit, while North America will score the Kombat Pack. Meanwhile, both regions will get a steel book case and a steel card, as well as special edition packaging. Again, this will only be available on the PS4. Man, we feel like we've been clocked over the head by Goro writing this – it's absolutely ridiculous.
There's more, though. All formats will be able to opt for the Premium Edition, which will be available from the PlayStation Store, and will come with the Kombat Pack for £79.99/$89.99. If you plump up for the PS3 version in Europe, it'll actually only cost you £64.99. And then, there's the Special Edition in Europe, which will come with a steel case. That'll cost you £54.99 on the PS4, and £39.99 on the PS3. If you're in North America, meanwhile, you'll be able to pick up the Limited Edition for $94.99, which will come with the Kombat Pack and the Cold War Scorpion costume. That'll only be available on the PS4.
We now wish that someone would come and rip our head off because we no longer want to live in a world where someone thought that all of this was a good idea.