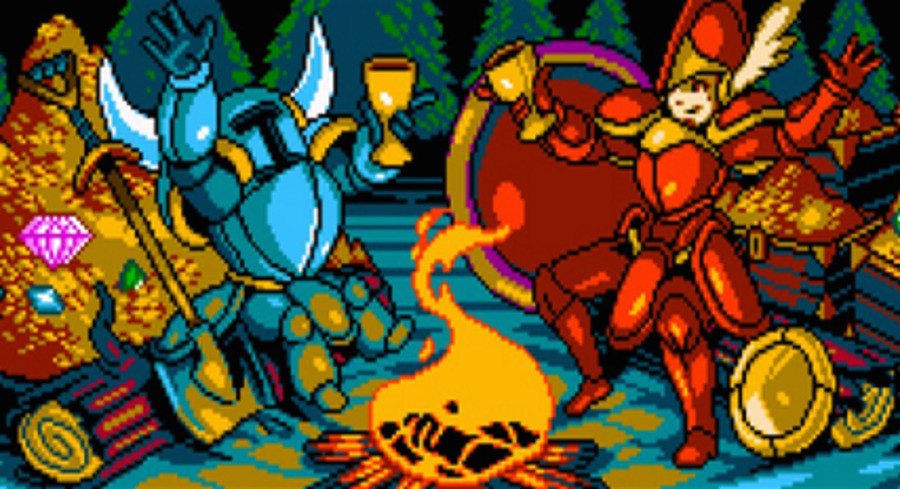 If you've kept abreast on the hottest indie titles within the past year, you might have heard about the massively successful Shovel Knight, which recently passed 300,000 units sold. The game is a lovingly created call back to classic 8-bit titles, with tight 2D platforming inspired by the likes of Mega Man and DuckTales, a vibrant, pixelated art style, a fantastically composed soundtrack filled with nostalgic beeps and boops, and more.
The indie darling only made its way to PC and Nintendo platforms at first, but now it will surface on all of Sony's current PlayStation platforms in 2015. You will be able to embark on a quest to find your beloved partner, the Shield Knight, from the clutches of the Enchantress and her league of tough bosses that each present unique challenges. With your trusty shovel, you will bounce, dig, and swipe your way through a medieval land packed to the brim with gorgeous levels that test your platforming skill and resolve.
In addition, the small yet ambitious team is trying to take advantage of the various platforms features so that PlayStation fans can have the best experience with Shovel Knight. Yacht Club Games' David D'Angelo on the PlayStation Blog confirms that "back touch implementation, Twitch TV integration, cross-save, and more" will make these more than your average ports.
In addition, one of the biggest shocks of this announcement is that the vengeful Kratos from the God of War series will meet up with the feisty Shovel Knight exclusively on PlayStation platforms – but will he be an enemy, an ally, or a playable character? That remains to be seen, but we're betting that he will be a punishing foe based on the must-see trailer below.
If you've been wanting to play Shovel Knight, is this what you've been waiting for? If you haven't heard much about it, is your interest piqued to play this highly-acclaimed title? Tunnel through the trailer below and leave a comment to let us know your thoughts.
[source blog.us.playstation.com]