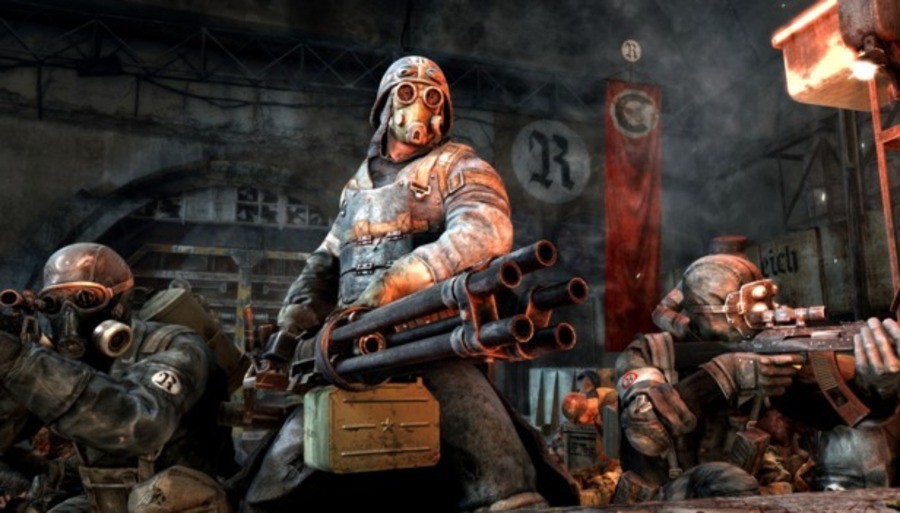 It's Game of the Month time once again here at Push Square, and what a busy month for games it was in August. We reviewed 27 titles in total, but PlayStation 4 port naysayers probably won't be happy with the winner of our prestigious award. Back in July, we crowned The Last of Us Remastered as the best release of the Summer month, and carrying on the wave of fantastic, but gritty revisits was Metro Redux — our victor of August 2014.
An updated collection of both Metro 2033 and Metro: Last Light, the release shone its torch into the eyes of Reviewer Graham Banas, and he simply couldn't look away. "These are more than just mere ports, as both titles have been heavily reworked in order to feel fresh and new," he wrote, allaying any fears of a quick and easy porting job. "All in all, whether you're new to the franchise or not, the abandoned underground has never looked this inviting," our writer concluded, before tossing an 8/10 into the tunnels and dashing back to safety.
It wasn't all doom and gloom last month, though, as neon filled standalone expansion inFAMOUS: First Light lit up the PS4. Giving the DLC a solid 7/10, Editor Sammy Barker noted that "Fetch's fast-paced take on the neon power set makes her an entertaining protagonist to play as – especially in the frantic Battle Arenas." Do we sense a bit of a crush?
There was a title that beat out both aforementioned games in terms of score, though, and that was Diablo III: Reaper of Souls - Ultimate Evil Edition on PS4. The loot heavy RPG erupted onto Sony's newest console with critics singing its praises, so it's no wonder that our very own Greg Giddens was forced to give the monster time sink a fantastic 9/10. "It's a bit mindless, yes, but collecting loot and slaying enemies is seldom as sweet as it is here," he wrote, before concluding that "quite simply, this is an excellent action RPG." We still don't really know what happened to good old Greg after his trip to Hell.
Elsewhere, the PS Vita got some much needed love in the form of the brilliant Danganronpa 2: Goodbye Despair, which this particular author called "a superb sequel that successfully builds upon its predecessor's already addictive formula." Top top it off, we stated that the intense title — along with the first game — is "possibly the most gripping tale to grace Sony's portable device," before slapping a great 8/10 on everyone's favourite mechanical bear.
Those who haven't yet committed themselves to the PS4 will also be happy to hear that the PS3 is far from dead yet, with Tales of Xillia 2 getting a resounding 8/10 from Reviewer Nathan Michalik, who summed the Japanese RPG up by writing that "several unnecessary complexities may hold the sequel back for some, but the strong story, engaging battle system, and brilliant character development should appeal to both casual and hardcore JRPG fans alike." Indeed, August was a pretty good month for successful sequels.
That's about it for our write-up, but feel free to peruse the handy list of reviews that we've pasted onto the page. When you're done reading, let us know what your favourite game of August 2014 was by voting in our poll, and remember to tell us how tragically wrong some of our scores are in the comments section below.
Trials Fusion: Riders of the Rustlands - 4/10
El Chavo Kart - 7/10
Don't Starve: Reign of Giants - 7/10
Sacred 3 - 6/10
Table Top Racing - 6/10
Road Not Taken - 7/10
Pure Pool - 7/10
Metrico - 6/10
Phantom Breaker: Battle Grounds - 6/10
Gravity Crash Ultra - 7/10
Diablo III: Reaper of Souls - Ultimate Evil Edition - 9/10
Sword Art Online: Hollow Fragment - 6/10
Hohokum - 6/10
Surgeon Simulator: Anniversary Edition - 6/10
Hyperdimension Neptunia Re;Birth1 - 8/10
Counterspy - 5/10
Metro Redux - 8/10
inFAMOUS: First Light - 7/10
Akiba's Trip: Undead & Undressed - 7/10
Hotline Miami (PS4) - 9/10
Trials Fusion: Empire of the Sky - 6/10
Risen 3: Titan Lords - 4/10
Tales of Xillia 2 - 8/10
The Walking Dead: Season 2, Episode 5 — No Going Back - 9/10
Plants vs. Zombies: Garden Warfare - 8/10
Mahjong Gold - 6/10
Danganronpa 2: Goodbye Despair - 8/10
What was your favourite game in August? (26 votes)
Diablo III: Reaper of Souls - Ultimate Evil Edition
42%
inFAMOUS: First Light
12%
Danganronpa 2: Goodbye Despair
4%
Please login to vote in this poll.