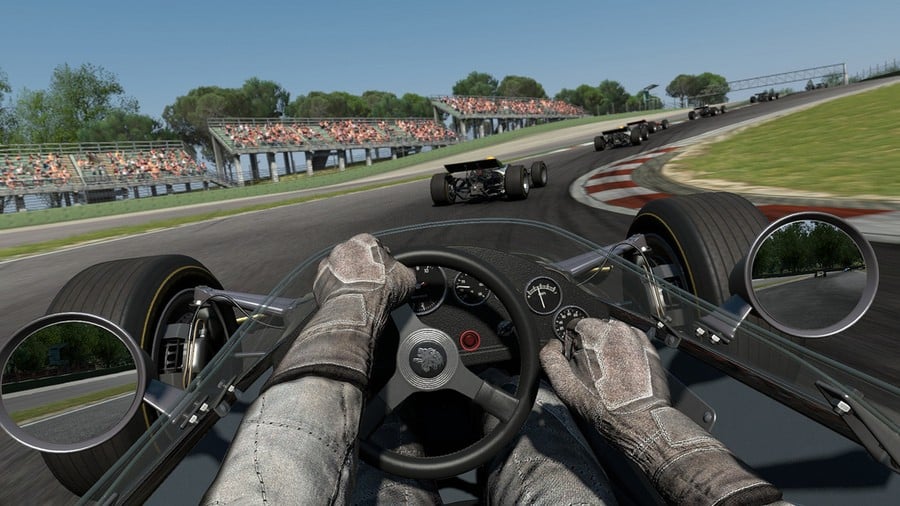 Racing games are like London buses: you wait ages for one to pull up, and then several appear at once. It's been a disappointing first year for petrol heads on the PlayStation 4, with only really Need for Speed: Rivals to keep you occupied – but thankfully the outlook looks, er, good over the coming weeks. In addition to DriveClub and The Crew, UK firm Slightly Mad Studios will be hitting the track with its partially crowd funded Project Cars, which is shaping up nicely.
This is a simulation racer through and through, as evidenced by this three lap trip around British track Brands Hatch. Much like the developer's previous title Need for Speed: Shift, the footage focuses on the title's helmet cam, meaning that you'll need to manually move your head around in order to get a proper look out of your mirrors and the like. Fortunately, the game will be compatible with Project Morpheus when the virtual reality headset deploys.
One other neat feature is that you'll be able to pick specific dates, and the title will import weather data, meaning that you'll be able to play in the exact same conditions as many historic races. We seem to recall that Shenmue had a similar option to that, once again proving that Yu Suzuki's masterpiece was way ahead of its time. Still, this is all looking rather spiffing, isn't it? It should make that wait for Gran Turismo 7 a little easier, at least.
[source youtube.com]