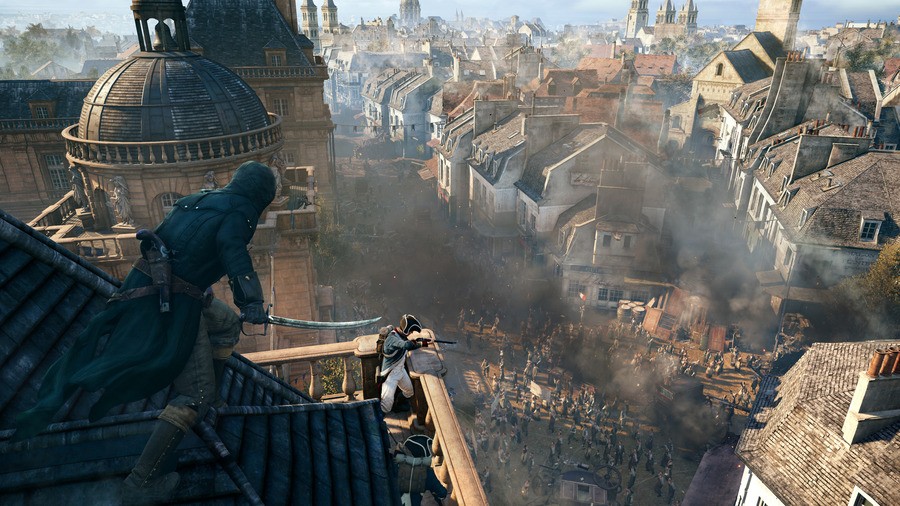 Yesterday we got our first proper look at last-gen only title Assassin's Creed Rogue courtesy of an eight minute gameplay trailer, but after seeing this 11 minute walkthrough for Assassin's Creed Unity, we're starting to really appreciate why publisher Ubisoft is keeping this one a current-gen exclusive.
Simply put, the city of Paris looks fantastic, and the level of detail on show is undoubtedly impressive. The video talks us through an early mission in which protagonist Arno has to get stabby with — you guessed it — a rich, ugly Templar. It obviously still looks a lot like Assassin's Creed, but the introduction of 'black box' mission design will supposedly allow you to tackle missions however you see fit. To us, this sounds like a real step in the right direction, as one of our biggest gripes about prior games has been that most objectives don't allow for much freedom when it comes to carrying out your usually bloody task.
Within the core mission, there'll also be side objectives that you can chase as well, which have a direct effect on how things play out. It's all neatly explained in the walkthrough that we've embedded, but do remember to let us know your thoughts on the franchise's future in the comments section below.