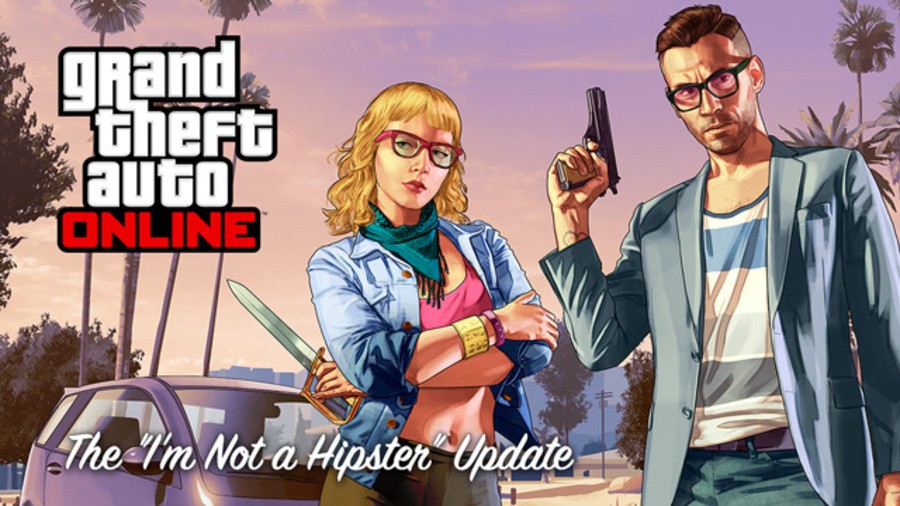 Grand Theft Auto V's scathing social commentary has hit a new high, with the – and we quote – "post ironic, artisanal, organic, entirely independent, 100 per cent re-claimed 'I'm Not a Hipster' update" for multiplayer mode Grand Theft Auto Online. Sporting a wide variety of retro print tees, skinny jeans, hairstyles, and more, you'll be able to recite Hemingway through your Bluetooth headset while running around Los Santos dressed like someone out of the Klaxons.
Furthermore, there are a bunch of new vehicles to pick from that will match your radical new sense of style, including the Glendale, Warrener, Blade, and Rhapsody, while the environmentally conscientious among you will be able to drive the Panto. If that's not enough, the Dusta will be on hand for those eager to roll with their crew.
And if you're looking for a few new weapons to shut down those who accuse you of being a poser, you'll now find the Vintage Pistol and Antique Cavalry Dagger in stock at your nearest Ammu-Nation outlet. New jobs, fixes, and balance tweaks have also been added as part of this update, which you can peruse in more detail through here. Are you impressed with this free care package? Post a picture of your Morrissey tattoo in the comments section below.
[source rockstargames.com]