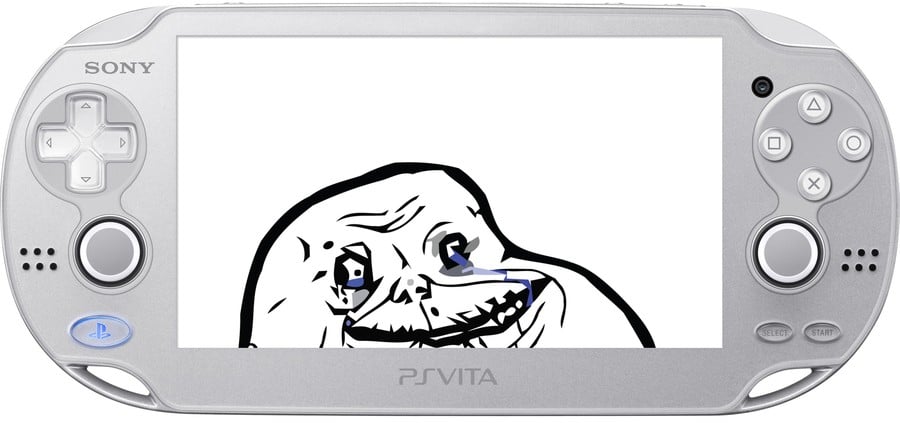 Step out of a New York subway station and you'll no longer be greeted by a religious zealot with a sandwich board, but instead a dedicated handheld decrier. "Portable consoles are dead," they'll scream, pointing to pictures of the PlayStation Vita with a big red line drawn through it. And they may be right, as NPD data has shown that the PlayStation Portable – y'know, Sony's all but defunct mobile machine – almost sold as many units as its flagship pocketable format in the US last month.
Research analyst David Gibson revealed the snippet on Twitter earlier this week, stating that the ageing PSP moved around 5,000 units, while the Vita managed a "little over" 10,000 units. That's a frighteningly close overview whichever way you cut it, but fortunately it doesn't quite tell the full tale. It seems that the platform holder is running down stock of its OLED augmented device in preparation for its slimmer successor, which is due out in early May. Indeed, the console's not readily available right now.
That doesn't make the numbers any easier to read, but at least there is a sliver of an explanation behind the disappointing data. Still, it's a tricky time for Sony at the moment, as it attempts to desperately revive its failing handheld format. The strategy appears to be working in Japan, where the unit is up year-over-year, and is currently outselling the once unstoppable Nintendo 3DS. Overseas, it looks like it has a tougher battle ahead. Maybe portable gaming really is dead – unless you're Angry Birds, of course.
[source twitter.com]