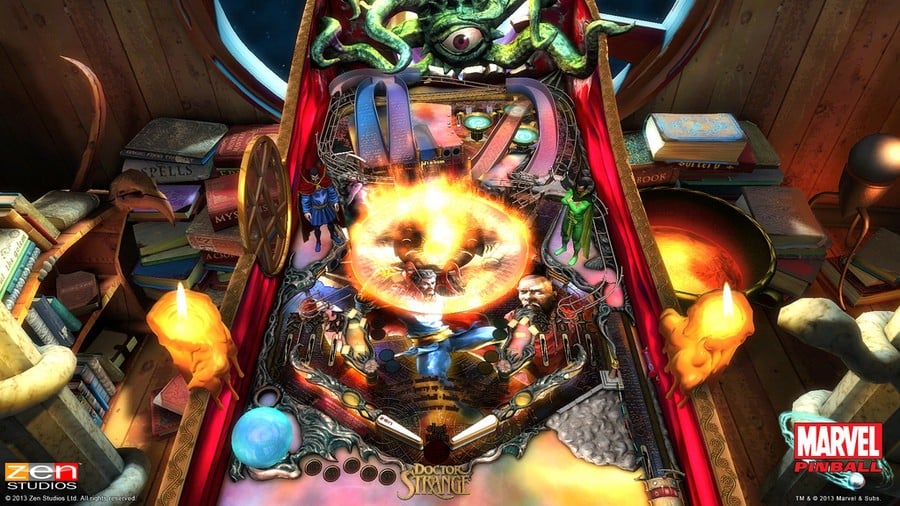 Steel your flipper fingers for the ultimate tabletop experience, as Zen Studios has announced that Zen Pinball 2 is set to ping onto the PlayStation 4 on 17th December in North America and 18th December in Europe. Even better, the re-release's tables will be available for free if you've already spent money on the score-chasing simulator before.
Sadly, not all of the content is making the generation jump. The full roster of Star Wars Pinball and Marvel Pinball tables will be available at launch, alongside a selection of favourites such as Epic Quest, Earth Defense, and Paranormal. Unfortunately, there'll be no Eldorado to whet your adventuring whistle.
If you've not sampled the pinball platform before, the developer will be giving away a free copy of the Sorcerer's Lair table to everyone that downloads the title, allowing you to dip your toes into the re-release relatively risk free. Additionally, the recently announced Doctor Strange table will be available alongside the PS4 version for $2.99/€2.99.
Of course, Zen Studios assures that there's still plenty more to come. "We have huge plans for pinball in 2014, including more Star Wars Pinball and Marvel Pinball tables, as well as tables based on more iconic and exciting brands," explained Bobby Loertscher on the PlayStation Blog. "We cannot wait to share all of the pinball goodness." Are you flipping out? Trigger your multiball in the comments section below.
[source blog.eu.playstation.com, via blog.us.playstation.com]