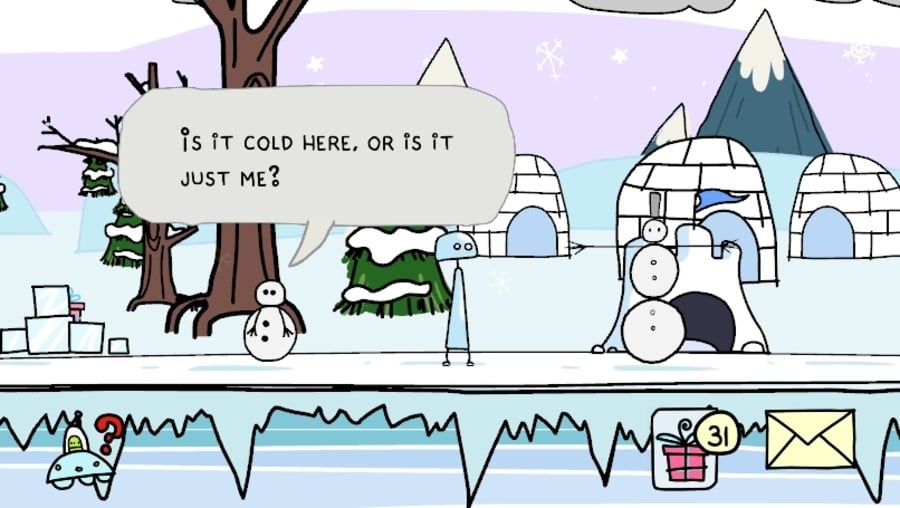 ToeJam & Earl creator Greg Johnson's bizarre intergalactic experiment Doki-Doki Universe is set to tie up its Hi-Tops and speed onto the PlayStation 4, PlayStation 3, and PlayStation Vita this month. The title – which appears to be dated for North America only at the moment – will jam with your consoles on 10th December, and will be fully cross-buy compatible, meaning that you'll only need to pay once to play it on all three of the abovementioned systems.
The wacky indie exclusive puts you inside the iron boots of a cleverly dubbed robot named QT3, whose model is about to be discontinued. However, the cyborg is offered reprieve if he can prove to an alien named Jeff that he has some humanity hidden inside his hard metallic shell. As a consequence, the title sees you exploring various planets, interacting with each world's inhabitants, and taking, er, personality tests. We're not making any of this up.
In addition to the core adventure, the package will come with a messaging application that will allow you to send animated ditties to your friends on Facebook. You'll also be able to build your own planet which your buddies will be able to visit. A free version of the game will be made available at launch that will allow you to sample the messaging system, but you'll need to stump up $14.99 to unlock the full adventure. Colour us completely and utterly intrigued.
[source blog.us.playstation.com]