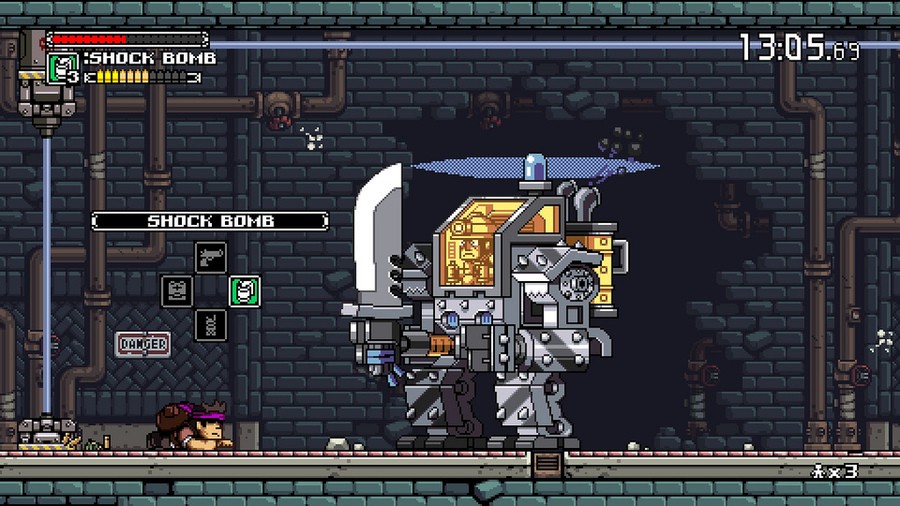 Tribute Games, the independent outfit fronted by a faction of former Scott Pilgrim vs. The World: The Game developers, has a handful of heavy weapons ready – and it's pointing them directly at the PlayStation 4. The Canadian company's upcoming run-and-gun excursion Mercenary Kings is set to put a bullet hole in your brand new console sometime this winter, and the developer's jumped onto the PlayStation Blog in order to deploy a scattershot of new details ahead of time.
The game's hook – outside of its gorgeous 80s-inspired visuals and co-operative multiplayer – is its crafting system. "You can try to make your way and destroy [the] C.L.A.W. (Cyber Loyalists Active Weapon) clan with your regular pistol, but as you progress through Mandragora Island and pick up materials, almost every character back at your HQ offers huge crafting possibilities," explained writer Yannick Belzil. "There are more than 300 gun parts to mix and match."
As a result, you can create weapons with massive magazines, or augment elemental properties that will freeze your opponents. "It's a pretty comprehensive customisation system that should appeal to the RPG fan in you," the developer continued. "Will you sacrifice accuracy for damage, or craft a smaller blade to be lighter on your feet? Or will you just build a weird, toilet-shaped rifle?" Duh, that's a no-brainer.
We're guessing that winter means next year in this instance, but we're aware of the adage that good things come to those that wait. In that case, we'll be spending the coming months dreaming of our kitten-shaped assault rifle. Not even Riley from Call of Duty: Ghosts would have the guts to mess with our feline firearm's incendiary rounds. Meow.
[source blog.us.playstation.com]