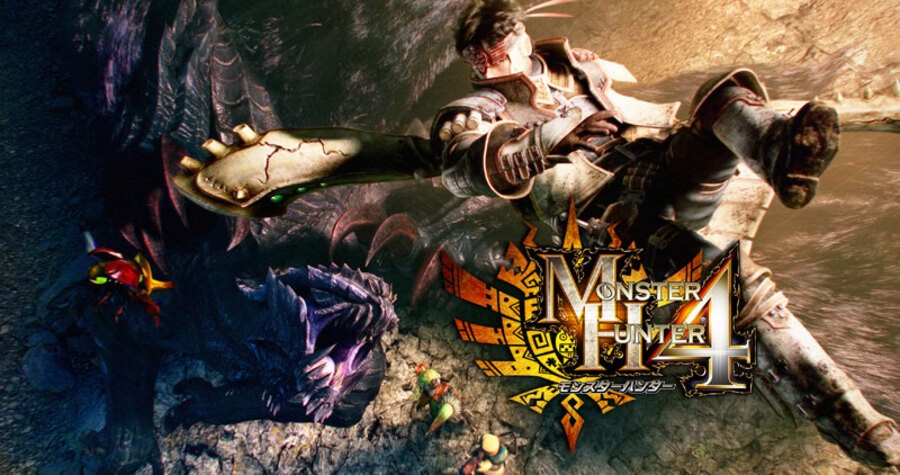 A former PlayStation Portable breadwinner, Monster Hunter's curious absence has been felt ever since the PlayStation Vita's release. But the great dinosaur-sized hole is more pronounced than ever at the moment, as the hotly anticipated Monster Hunter 4 has just deployed on the Nintendo 3DS in Japan. Unsurprisingly, it's caused a little bit of a furore.
According to Media Create, the game sold a mind-numbing 1.7 million copies during its first day on store shelves. Even more impressively, it propelled Nintendo 3DS sales through the roof, with the handheld shifting a dizzying 276,792 units throughout the period spanning 9th September to 15th September. For purely illustrative purposes, the PlayStation Vita sold an embarrassing 6,020 units.
Granted, sales of Sony's system may have been hindered by the recent announcement of the device's upcoming hardware revision, but the console has been trending downwards ever since the release of Soul Sacrifice earlier in the year. And with the inevitably popular Pokémon X & Y lingering on the horizon, we suspect that things are only going to get tougher for the Japanese giant's flagging format.
Hardware
1. 3DS – 276,792 (79,191)
2. PlayStation 3 – 12,146 (13,790)
3. PlayStation Vita – 6,020 (7,314)
4. PSP – 5,449 (5,493)
5. Wii U – 5,003 (5,702)
6. Wii – 962 (978)
7. Xbox 360 – 244 (201)
Software
[3DS] Monster Hunter 4 (Capcom, 09/14/13) – 1,715,060 (New)
[PS3] AKB1/149 Renai Sousenkyo (Namco Bandai, 09/12/13) – 27,052 (New)
[PSP] Brothers Conflict: Brilliant Blue (Idea Factory, 09/12/13) – 15,297 (New)
[3DS] Tomodachi Collection: New Life (Nintendo, 04/18/13) – 10,530 (1,431,527)
[PSP] Uta no Prince-sama: Music 2 (Broccoli, 09/05/13) – 10,343 (78,758)
[3DS] Mario & Luigi: Dream Team (Nintendo, 07/18/13) – 9,428 (302,594)
[PS3] JoJo's Bizarre Adventure: All Star Battle (Namco Bandai, 08/29/13) – 8,906 (454,343)
[3DS] Disney Magic Castle: My Happy Life (Namco Bandai, 08/01/13) – 8,822 (264,131)
[PS3] Splinter Cell: Blacklist (Ubisoft, 09/05/13) – 8,252 (30,677)
[3DS] Yokai Watch (Level-5, 07/11/13) – 7,791 (172,022)
[3DS] Animal Crossing: New Leaf (Nintendo, 11/08/12) – 7,348 (3,410,090)
[3DS] Luigi's Mansion: Dark Moon (Nintendo, 03/20/13) – 5,352 (896,600)
[PSV] Killzone: Mercenary (SCE, 09/05/13) – 4,304 (15,356)
[3DS] Mario Kart 7 (Nintendo, 12/01/11) – 4,195 (2,120,291)
[PSV] Ragnarok Odyssey Ace (GungHo Online Entertainment, 08/29/13) – 3,969 (44,975)
[PS3] Dead or Alive 5 Ultimate (Tecmo Koei, 09/05/13) – 3,566 (22,174)
[PS3] Puppeteer (SCE, 09/05/13) – 3,503 (12,403)
[3DS] New Super Mario Bros. 2 (Nintendo, 07/28/12) – 3,400 (2,094,152)
[Wii] Taiko Drum Master Wii Super Wonderful Version (Namco Bandai, 11/29/12) – 3,390 (560,681)
[3DS] Phoenix Wright: Ace Attorney – Dual Destinies (Capcom, 07/25/13) – 3,336 (339,000)
[source 4gamer.net, via gematsu.com, neogaf.com]