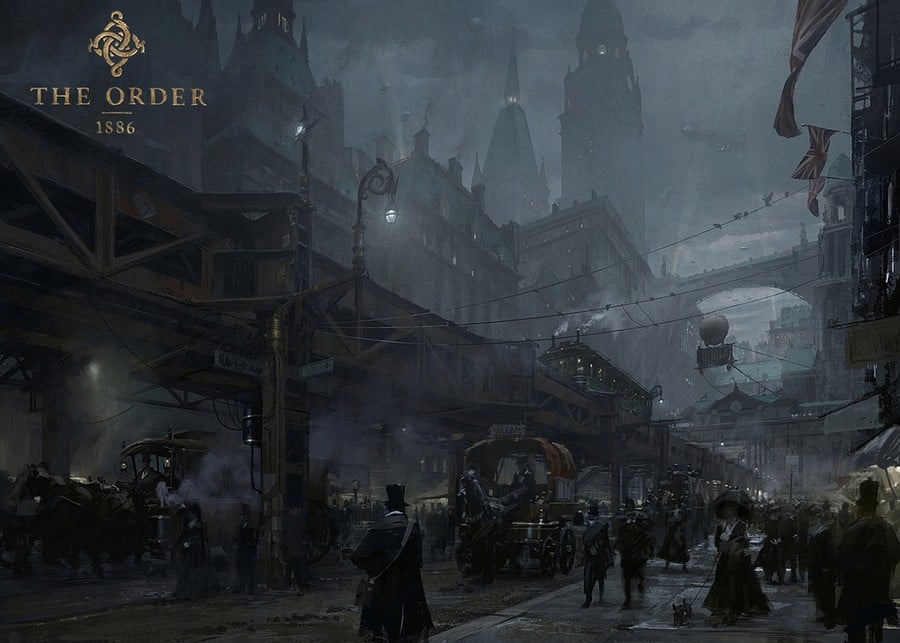 Few games make us want to well up with excitement more than inFAMOUS: Second Son, but Ready at Dawn's mysterious third-person shooter The Order: 1886 certainly sits among that list. While the PlayStation 4 exclusive isn't technically on display at GamesCom this week, the studio has been giving behind-the-scenes presentations of the release.
One thing that the press are getting to see – as reported by VG247 – is destructibility. Much like in blockbuster shooters such as Battlefield 4, the developer has gone to painstaking lengths to accurately model the properties of granite, gravel, and, of course, cobblestones. Why? Unfortunately, it's not going into that yet.
But it is willing to share its vision of 19th century London, which you can glimpse in the artwork embedded above. The team took a whopping 38,000 photos of the capital to help shape its alternate interpretation, which is both based upon reality and fiction. One of the big changes to the game's world is the introduction of electricity, which will give the Victorian city a touch of Times Square.
However, while you'll have access to some futuristic firepower, the game will also boast a selection of historically accurate weapons. "These give a sense of realism and believability to the world, and make the atmosphere feel dirty and palpable, reminiscent of the way that we are used to viewing the real post-Industrial Revolution Europe," explained creative director Ru Weerasuriya.
While we're still going to need selling on the gameplay, the atmosphere glimpsed in the above images is intense. If the studio can capture that – which we're confident that it can – this is almost certainly going to be one of the biggest games of 2014.
[source blog.eu.playstation.com, via vg247.com]