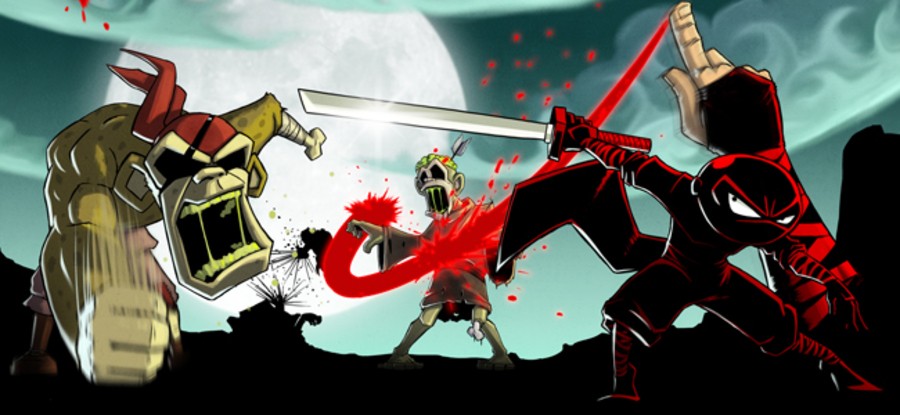 While the PlayStation Vita may feature its fair share of physical inputs, it would be a shame to let the system's gigantic touch screen remain free of smudges. Fortunately, Mass Creation's upcoming title Draw Slasher should give you enough of an excuse to coat the delicious display with your dirty little digits. The title – which can best be described as a deadly twist on Halfbrick's crop cutter, Fruit Ninja – sees you dismembering Pirate Monkey Zombies using the tip of your finger. We caught up with lead designer and artist Grzegorz Kurek to talk about some of the inspirations behind the title, hardcore gamers, and the PlayStation 4.
Push Square: How did Draw Slasher come about, and why is it a good fit for the Vita?
Grzegorz Kurek: In 2009 we made the very first Draw Slasher subtitled Dark Ninja vs. Pirate Monkey Zombies™ on iOS, a simple action arcade game. I believe it was the first game featuring 'draw to slash' mechanics on touch screen devices. It became quite popular, partly due to its black and white visuals and suggestive blood splatters.
Then, in 2011, we followed up with Draw Slasher: The Quest. The spin-off had story-driven gameplay, a colourful, cartoon style, and brand new opponents and bosses. The mechanics evolved, and the gameplay required more than just simple drawing. The title received very good reviews and was acclaimed by players, but it wasn't as popular as we expected. In my opinion, it was too hardcore for iOS at the time. We later released Draw Slasher: Origins, which came out in 2012, and was basically the same game, but we brought back the black and white style. It was sort of our tribute to the first Draw Slasher.
When Sony introduced the PlayStation Vita, my first thought was, "Damn! Draw Slasher was made for this platform." Five inches of widescreen real estate is perfect for drawing without obscuring the view. At the same time, it's small enough to not tire your wrist after ten minutes, such as with 10 inch tablets.
From the very beginning, we knew that we wanted Draw Slasher to be better, bigger, and cooler. So, we made a lot of changes to the basic mechanics, enhanced the visuals, redesigned the enemies, and added a lot of content, such as new bosses, mini games, and animated cut-scenes with a professional voiceover.
PS: Why did you decide to make the game's primary antagonists Pirate Monkey Zombies? That's oddly specific?
GK: Well, roses are red, pirates are cool, zombies are popular, and monkeys are, er, original? Actually, it's a tough question. Ninja was our first choice [for the protagonist] and we stuck with it. As to the opponents, we knew that we wanted zombies. We had even considered samurai zombies or demons, but it was dull and already covered in other games. So, who would invade a Far East village and still fit? We decided on pirates, and then made them zombies. What else?
As for the monkey, it was an antagonist in one of the concepts where the main character was a cat. Ninja-cat was turned down eventually, but Pirate Monkey Zombies were cool and ridiculous enough. We're glad that we went that way, as creating new characters was fun.
PS: Can you talk a little bit about the gameplay mechanics? Can we expect more depth than simply swiping the screen?
GK: We've come a long way since the previous version. Now the game can honestly be called a 'tactical slasher'. Swiping still requires agility and reflexes, but the gameplay is based on avoiding and dodging, rather than just slicing. Much like in any other 2D brawler, you need to control the space of the arena, act, and react. Swipe spamming won't get you anywhere.
There are also the Nijutsu Techniques, elemental abilities based on natural elements, like earth, fire, or lighting. You can use them in a fight by pinching the screen and choosing with a swipe. Of course, first you need to load your Ki Energy and that takes some time. Ninjutsu Techniques bring a whole new level of tactical approach to the fight.
PS: There's a cartoon flavour to the visuals. Can you talk a little about the inspiration behind the art?
GK: Where to begin? The art style of Draw Slasher was inspired by the both Western and Eastern cultures. We looked at Japanese art, things like manga and anime, as well as some older American comics. We even took inspiration from Batman: The Animated Series from 1992 and Tim Burton's movies, where black is the dominant colour. We were also influenced by retro 2D games like Another World, Flashback, Shadow of the Beast, Final Fight, and many more. The inspiration comes from every direction – anything that we've played, watched, or read, especially when we were kids.
We used 2D sprites in Draw Slasher because of the level of expression that just can't be achieved in three dimensions. Hand-drawn graphics don't get old; even in a few years' time the game will still look good. It's a little like going back to the era of the SNES or the Amiga – sticking with 2D art is our tribute to the good old times.
PS: This is your first Vita game, but you've been quite prolific on iOS in the past. What's brought you to the Vita, and what challenges have you faced during development?
GK: It was the gamers that brought us to the Vita. As mentioned before, Draw Slasher was made for core gamers. Ideally, mobile games need to be simple and shouldn't demand too much attention from a player. Draw Slasher's basic mechanics are simple, but when you get into the game, you will understand that the title's challenge does not fit the profile of a typical smartphone user.
Secondly, the bigger platform demands a certain level of quality, which means that not everyone can create a Vita game. This guarantees that our game will not sink in a sea of small, unpolished applications. We have a bigger chance of making Draw Slasher a success.
Of course, we were challenged by the new technology along the way. Vita was something completely new for the team. However, it was not as hard as we assumed, especially not with all of the support from Sony.
Honestly, the most demanding part of the process was the publishing itself. We had to acquire certain ratings such as the ESRB and PEGI, deal with a lot of 'paperwork', and write hundreds of emails to fulfil quality requirements. We weren't quite sure what we were signing up to – but we did it. A small independent game studio made a title for the Vita.
PS: Obviously, we know that the console isn't selling particularly well. What do you think it will take for the Vita to be more publicly accepted at retail?
GK: First of all, the Vita is just too expensive. Japan had the price dropped, but Europe and North America are still waiting. Secondly, there's a lack of games – big and small, indie and mainstream. Vita was designed for gaming; it has buttons, rear touch, tilt controls, and is a great platform for innovation. Why not bring back relic genres, like point and click, beat 'em ups, platformers, or even Metroidvania?
There is also the cross-save feature, which I think is still underused. It's so cool when you play a great game on your couch, and you can take it on the bus, subway, or to school. There are still too few titles that do this.
PS: What did you make of the PS4 announcement recently? Is the console appealing to a small developer such as Mass Creation?
GK: It's obvious that PCs outpaced the sixth generation consoles a long time ago. Everything needs an overhaul. Compared to PS3, the technical progress [in the PS4] gave us some goosebumps. The architecture is finally based on x86 architecture, so the development will be much simpler.
Sony promised that the publishing process will be much simpler, too. Of course, it's obvious it won't be as simple as for iOS or Android, but still doable for small teams. If the company doesn't make the submission process any harder than the Vita's, then we're in. We encourage other small teams to try it out as well.
---
Thanks so much to Grzegorz Kurek for chatting to us. Are you looking forward to Draw Slasher? Let us know in the comments section below.