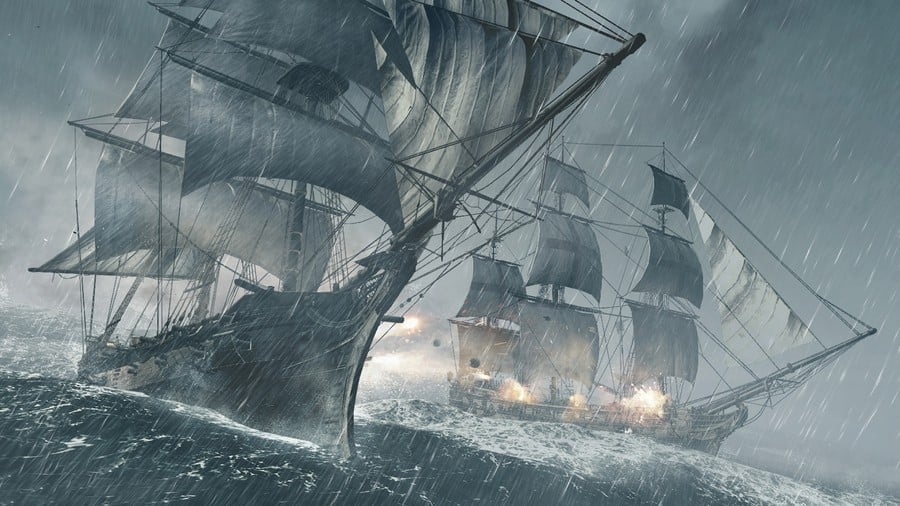 Assassin's Creed IV: Black Flag will embark on an adventure in pursuit of your loot later this year, as Ubisoft's historical franchise takes a trip to the tropics on PlayStation 3 and PlayStation 4. As previously predicted by a gaggle of scallywags, the next entry in the French publisher's deadly series will plot the path of Edward Kenway, a ruthless pirate who's roped into the deadly assassin order.
At an event in London last week, the company confirmed that the sequel is aiming for historical accuracy ahead of Hollywood drama. "There'll be no ghost ships," joked Ubisoft's jovial Carsten Myhill. "We realised that when we looked at the lives of the pirates themselves, we didn't really need to rely on sea monsters and other set-pieces."
The title aims to evolve the naval mechanics first introduced in last year's release, Assassin's Creed III. One of the key points of the publisher's presentation was fluidity; you'll be able to explore the entirety of the tropics – including key locations like the Bahamas, Jamaica, and Cuba – without the need for loading screens. In total the company is aiming to include 50 unique locations, including small fishing communities, coves, and more. You'll even be able to go underwater.
Diving beneath the ocean will allow you to explore ship wrecks, adding even more activities to the bulging open world. A gameplay trailer showed lead character Kenway opening a treasure chest stashed at the bottom of the ocean bed, while fish and sea life erupted into activity in the foreground.
And while you're experiencing the life of a pirate in an 18th century paradise, you'll also be researching the history of Kenway in Abstergo's offices. With former present day protagonist Desmond Miles now out of the picture, Ubisoft has decided to put you in his place. It seems like these sections of the game will play out from a first-person perspective, as you wander the futuristic federal agency hunting for clues.
The game's due out on October 29th in North America and November 1st in Europe. For more information, turn your attention to our full preview here. Are you excited about another entry in the Assassin's Creed series? Let us know in the comments section below.