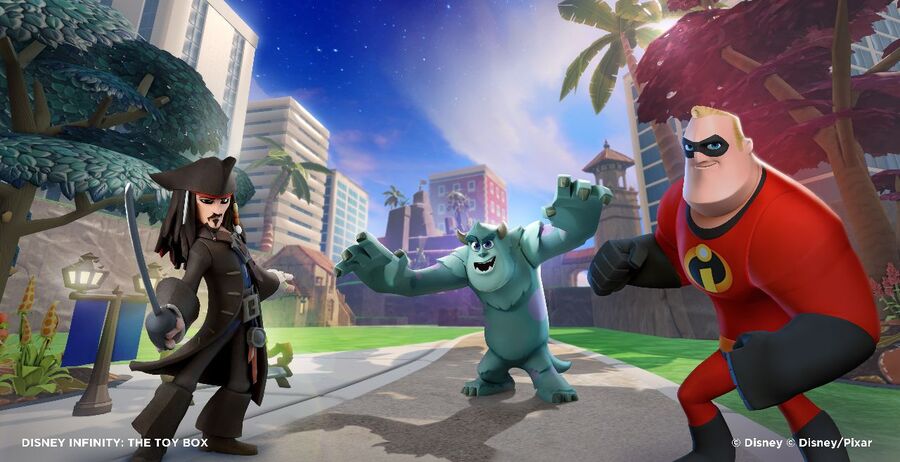 It was inevitable, wasn't it? After muted rumours, Disney Interactive has announced Disney Infinity, a brand new PlayStation 3 sandbox title powered by toys based on characters from the illustrious filmmaker's storied history. The title's set to launch this June, which is sure to have Skylanders publisher Activision quaking in its boots.
There'll be 20 figures available at launch, initially based upon Monsters University, The Incredibles, and Pirates of the Caribbean. The starter pack will include three protagonists from each of the aforementioned franchises: Sulley, Captain Jack Sparrow, and Mr. Incredible. Each brand will boast its own world or Play Set, which you'll be able to combine with other universes in the title's Toy Box mode.
There you'll have the option to "build and customise" your own virtual scene using your "favourite characters, vehicles, settings, and accessories". You'll then be able to share these with friends online. Power Discs – physical coins that accompany the character models – will allow you to add items and power-ups to your in-game figures for further customisation. The title will support two players in split-screen and four players online.
Naturally, new characters and franchises will be released over time. The debut trailer below shows cameos from Cars, Toy Story, Wreck-It Ralph, and The Nightmare Before Christmas' stars. The sky's the limit for how far this can expand.
There's still no exact release date, but the title's due out at some point this summer. According to Polygon, the starter pack – including the game, the base, and the previously discussed trio of characters – will cost $74.99, with Play Sets retailing for $34.99, packs of three figures costing $29.99, individual characters selling for $12.99, and random Power Discs going for $4.99. That's already making our eyes water.
We're sure that we'll be learning a lot more about the title in the coming days. In the meantime, feel free to air your thoughts in the comments section.
[source polygon.com, via joystiq.com, vg247.com]