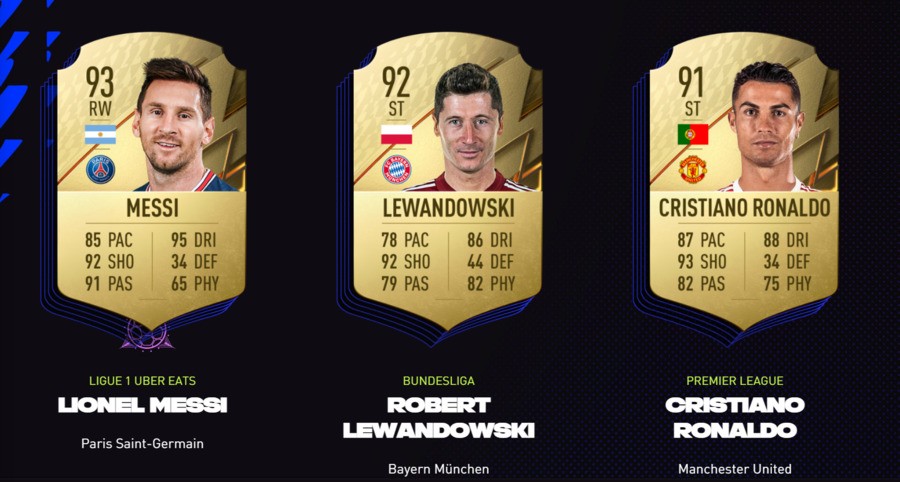 EA Sports has revealed the top 22 players in FIFA 22 (see what they did there?) as per this year's player ratings. All of the in-game stats are based on The Ratings Collective, which is a football scouting network, but there's no doubt that the rankings will spark a lot of discussion — as they do every year.
So, who's top of the pile? Well, you probably won't be surprised to learn that Lionel Messi's still considered the best of the best, with the highest overall rating of 93. Robert Lewandowski is just behind him at 92, and Cristiano Ronaldo comes in third with 91 — but the returning Manchester United signing is level with De Bruyne, Mbappé, Neymar, and Oblak in terms of actual rating. Indeed, Ronaldo's actually been docked an overall point compared to his FIFA 21 incarnation. He's not getting any younger!
Elsewhere, Liverpool's Virgil van Dijk is still the highest rated defender in the game, and a whopping seven goalkeepers make the cut, including Neuer, Ter Stegen, Donnarumma, Alisson, Courtois, Ederson, and the aforementioned Oblak.
Anyway, here's the top 22 in full:
Messi (PSG) - 93
Lewandowski (Bayern Munich) - 92
Ronaldo (Manchester United) - 91
De Bruyne (Manchester City) - 91
Mbappé (PSG) - 91
Neymar (PSG) - 91
Oblak (Atletico Madrid) - 91
Kane (Tottenham Hotspur) - 90
Kanté (Chelsea) - 90
Neuer (Bayern Munich) - 90
Ter Stegen (Barcelona) - 90
Salah (Liverpool) - 89
Donnarumma (PSG) - 89
Benzema (Real Madrid) - 89
van Dijk (Liverpool) - 89
Kimmich (Bayern Munich) - 89
Son (Tottenham Hotspur) - 89
Alisson (Liverpool) - 89
Courtois (Real Madrid) - 89
Casemiro (Real Madrid) - 89
Ederson (Manchester City) - 89
Mané (Liverpool) - 89
Do you agree with these ratings? Did EA Sports leave out anyone obvious? Check your all-important pace stat in the comments section below.
[source ea.com]