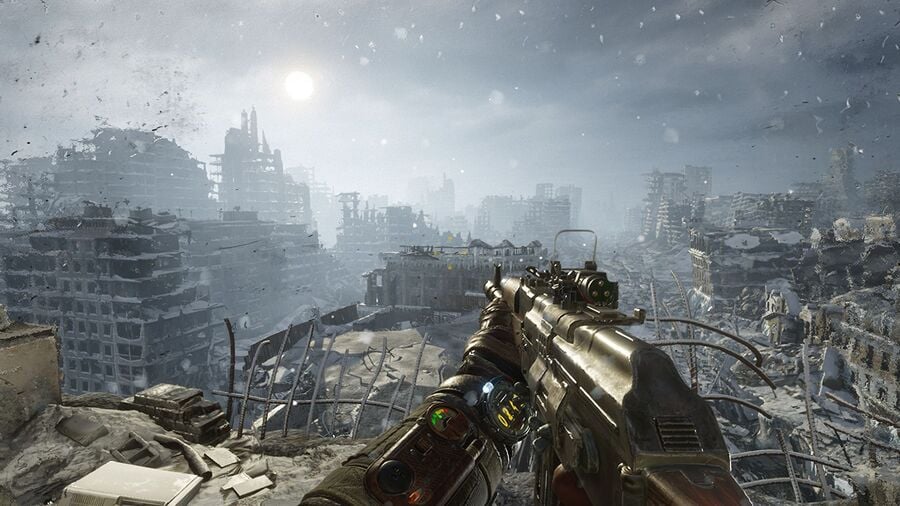 Metro Exodus is out on PlayStation 5 tomorrow (that's the 18th June if you happen to be reading this at a later date), and it's a free upgrade if you already own the game on PS4. Previously, developer 4A Games promised all kinds of technical upgrades on Sony's next-gen console, with 4K support and 60 frames-per-second, as well as ray tracing, being the highlights — and it's still set to deliver on all of that.
But today, the studio has seen fit to detail the game's DualSense functionality — and it sounds great. For starters, each individual weapon will boast its own haptic feedback, and this feedback will change in subtle ways depending on how you customise your guns.
4A Games gives a couple of examples on the PlayStation Blog: "Some of Metro's signature weapons are the hand-crafted, pneumatic Tikhar and the spring loaded Helsing, and we found the perfect use for the DualSense controller's adaptive triggers to simulate the increased pressure or resistance when priming /charging these unique firearms. Maintaining high air pressure in the tank is essential to preserve the Tikhar's lethality, and this has to be manually topped up by pumping the right trigger; as the pressure increases, so does the resistance on the trigger action so players can feel when maximum pressure has been attained."
It continues: "We also use the adaptive triggers to mimic resistance when rowing, operating some machinery, or driving Metro's all terrain vehicle acquired in the Caspian desert. Of course, for Metro Exodus we retrofitted this new functionality into our existing design, but as creatives we're excited about exploring new gameplay mechanics that can be enhanced with the DualSense controller in mind from the start to better deliver our goal of complete player immersion."
Again, it sounds like the developer's gone the extra mile here, and we're looking forward to, er, feeling the finished product. Will you be playing Metro Exodus on PS5? Remember to reload in the comments section below.
[source blog.playstation.com]