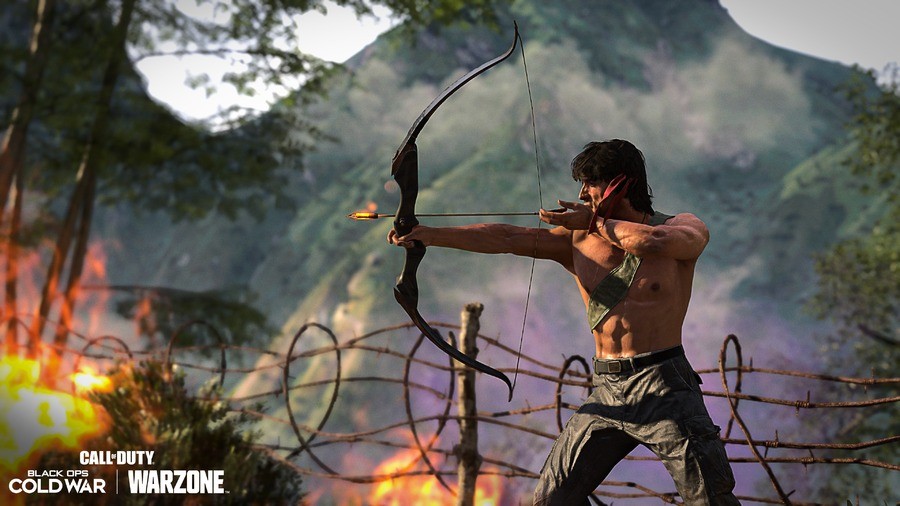 The fun doesn't stop for Call of Duty players as Activision reveals a plethora of content headed to Call of Duty: Warzone and Call of Duty: Black Ops Cold War over the coming days and weeks. First up is the 80s Action Heroes event, which the publisher has been teasing recently. Die Hard hero John McClane and Sylvester Stallone's Rambo join the Battle Royale party with a time-limited mode that adds new points of interest to the Verdansk map. You'll be able to actually play as the two action movie heroes by buying cosmetic bundles that go live tomorrow.
The new mode you'll be competing in is named Power Grab, which features a smaller initial circle collapse and is then split into five other stages once complete. There's no Gulag — you can only bring back teammates at a Buy Station or through the collection of dog tags. Think of this as the Kill Confirmed mode from Call of Duty multiplayer and you're on the right track. When a player is eliminated from the match, they'll drop a dog tag, and collecting enough of these boosts your placement on a reward ladder. This grants you access to UAVs, respawn tokens, and advanced gas masks.
The Call of Duty: Warzone update will be 14.6GB in size on both PlayStation 5 and PS4, while the patch for Black Ops Cold War players is 10.3GB on PS5 and 7.1GB on PS4. The traditional multiplayer offering is being updated with a new map called Standoff, while multi-team modes are being treated to Duga. There will also be a variety of new modes to take part in and medals to unlock. Finally, Zombies players are getting a new main quest, another limited-time mode, and an all-new world event.
Do you have all that? We hope so because it's far too much content for us to repeat a second time. Let us know what mode you're most looking forward to playing in the comments below.
[source callofduty.com]