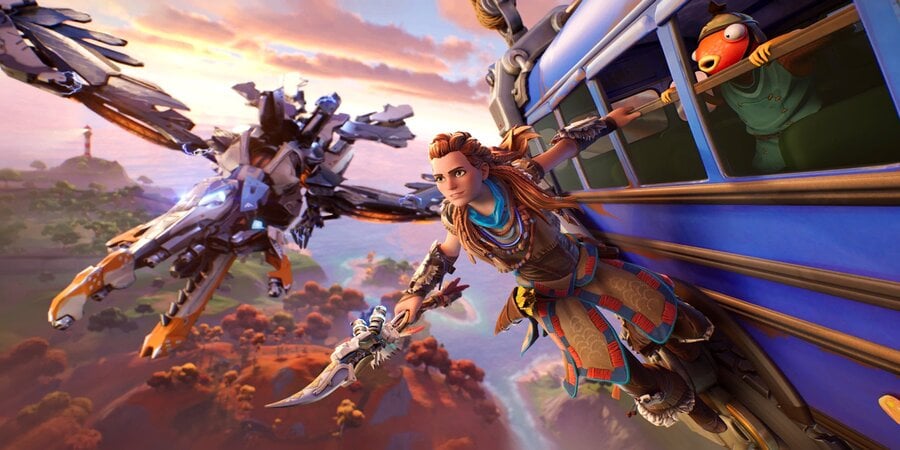 Update #2: And just like that, after leaking all over the web, Aloy has been confirmed for Fortnite. The character's bundle will launch on 15th April – and it looks awesome. In addition to a skin, you'll be able to secure a bundle featuring a Glinthawk glider and much, much more.
"All items in the Horizon Zero Dawn Bundle will be available individually, but the Bundle includes the Aloy the Skywatcher Loading Screen as an added bonus. Additionally, anyone who owns the Aloy Outfit and plays Fortnite on their PlayStation 5 will unlock the Ice Hunter Aloy Style, based on the Banuk Ice Hunter outfit from Horizon Zero Dawn," Epic Games' Michael House revealed on the PlayStation Blog.
But there's more: a new Duos mode featuring Aloy and Lara will run from 6AM PT on 16th April to 6AM PT 18th April, and will automatically kit you as one of the iconic heroines. "At your disposal will only be the bow for Aloy and Dual Pistols for Lara – keep an eye out for wildlife and master your crafting skills to upgrade your weapons!"
---
Update #1: And since going to press with this article, assets have started to leak. Here's your first look at Aloy in Fortnite form, courtesy of loading screen artwork:
And all of the content you can expect to unlock, including an Aloy skin and Glinthawk:
Pretty cool, eh?
---
Original Story: She's only appeared in one game to date, but Aloy has already established herself as one of the industry's most iconic heroines. And now, following in the footsteps of the God of War himself, the Horizon Forbidden West protagonist appears poised for a Fortnite cameo, where she'll star alongside the likes of Lara Croft.
Dataminers have discovered references to the Guerrilla Games character in the title's new v16.20 update, which released earlier today. While there are no assets, there is word of an upcoming time-limited mode where Aloy will team up with the aforementioned Tomb Raider to loot animal parts and tech – pretty cool promotional stuff:
The current Fortnite season has a primal theme, so Aloy's inclusion makes sense from this perspective. It's also worth remembering that Horizon Zero Dawn will be free with Play At Home next week, ahead of the series' PlayStation 5 and PS4 sequel later this year. Sony may see this as another great opportunity to get the franchise in front of more fans.
[source twitter.com, via eurogamer.net]