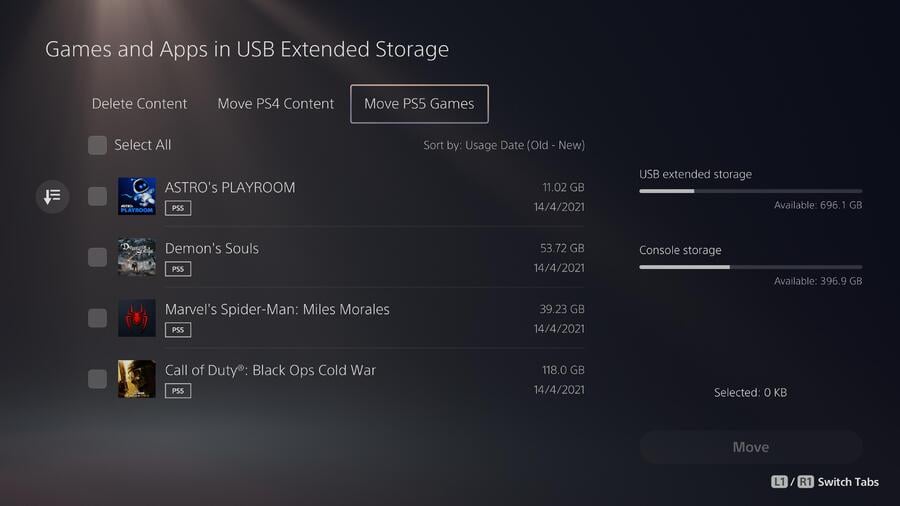 The PlayStation 5's internal SSD does not have anywhere near enough space to last hardcore gamers the entire generation — we all immediately recognised that the moment its storage capabilities were confirmed. Roughly 667GB of space is all Sony could muster up, which isn't even enough to house all of the system's launch games. But while it's true that problem will remain when it comes time to actually play those native PS5 titles, today's firmware update greatly expands the storage capabilities of the system. We've had a quick play around with the feature, and it proves to be a fairly speedy solution that alleviates many of the fears we faced around the console's launch.
To get anyone not in the loop back up to speed, here's a quick recap. PS5 games can now be stored on external hard drives (external SSDs also support this feature), meaning you no longer need to choose between what titles to delete in order to download something new. You won't be able to play PS5 titles off of the external hard drive — this feature is purely for storage, unlike last-gen PS4 games. Another caveat is that you can't directly download PS5 titles to the external hard drive. You must get it on your internal SSD first and then transfer the application over. The process is indeed a little messy, but it proves to be worth it in the end.
To test the new feature out, we transferred 221GB of data back and forth between the internal SSD and a Seagate Portable 1TB external hard drive. The PS5 games we used were Astro's Playroom, Demon's Souls, Marvel's Spider-Man: Miles Morales, and Call of Duty: Black Ops Cold War. All four were transferred during the same process each time. When testing the feature from the internal SSD to the external hard drive, it took roughly 40 minutes for all data to be transferred. When going in the opposite direction, from the external hard drive to the internal SSD, the process took slightly longer at around 45 minutes.
The only problem with the new feature is that you have to commit to the process. After accepting what PS5 games you want to transfer either way, the console cannot be used to do anything else. You must wait for the process to fully complete before starting a game — the only options you have at this point are to either let the feature do its work or cancel the whole thing. This isn't any different to how the transferring of PS4 titles is handled, but it's something to keep in mind. It's most certainly a handy feature, but it's something you'll want to have running in the background while you do something else so it doesn't eat into any gaming time.
But the feature itself certainly proves to work. You're probably not going to be transferring gigantic packages of data every time you utilise it, so a standard 50GB PS5 game shouldn't take up more than maybe 10 minutes of your time when placing it on an external hard drive. That's a much quicker process than the hours it can take to download something from the PS Store. This new solution to PS5 storage isn't perfect, but it is a huge step in the right direction.
---
Will you be taking advantage of the PS5's new external storage feature? What games will you be transferring over to an external hard drive? Let us know in the comments below.