Geez, these seasonal Call of Duty updates are absolutely enormous – it's taken us a good several minutes to read through everything Activision has in store. As we've already reported, Call of Duty: Black Ops Cold War and Call of Duty: Warzone's next big content drop will begin on 25th February, and there are no shortage of things to look forward to – whichever game you play.
Perhaps the headline addition is the new Black Ops Cold War zombies mode, Outbreak, which will serve as "the next chapter of the Dark Aether story [and] take the agents of Requiem deep into the heart of Russia, where they'll fight to survive their greatest challenges yet". According to a blog post, the experience "takes place across massive play spaces throughout the Ural Mountains, packed with new enemies, team objectives, player rewards, and intel to discover on foot, in vehicles, or by jump pads".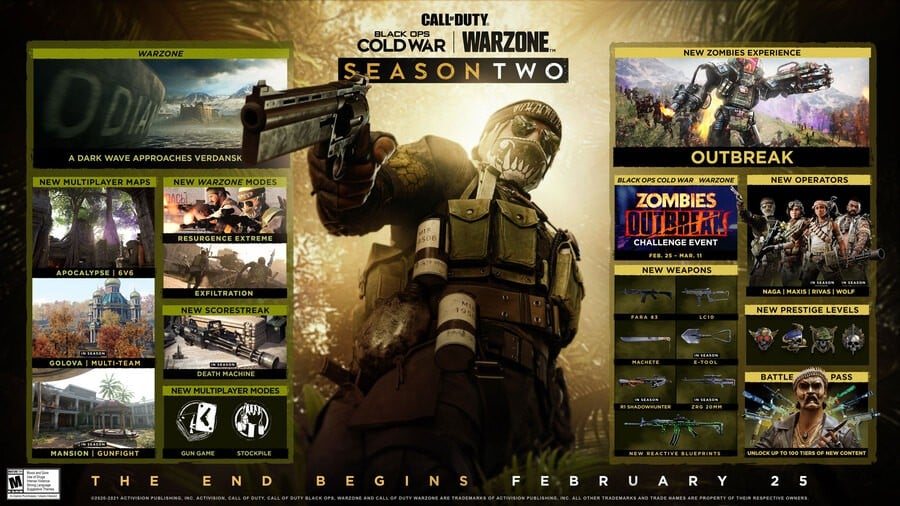 Of course, it's not all that developer Treyarch has got in store. Within the zombies mode, you can look forward to new field upgrades, ammo modifications, and skill tiers. Meanwhile, competitive multiplayer fans can anticipate the return of Gun Game, as well as the addition of Stockpile and multi-team Hardpoint. These playlists will be complemented by four new maps: Apocalypse, Golova, Mansion, and Miami Strike. And, of course, there are four new Operators as well.
Then there will be new weapons you'll be able to unlock as free tiers in the Battle Pass, while others will be dropped throughout the season, presumably as Blueprints. The game's also adding a handful of new vehicles, like the Sedan and Light Truck. Meanwhile, those of you who play Warzone should anticipate new points of interest and a couple of new game modes.
Obviously, there'll be a Battle Pass for those who want to buy it, but the vast majority of the content will be available for free. The season will roll out as part of an update scheduled to be made available between 9PM and 11PM on 23rd February, and the content will be available to play approximately 24 hours after. In the meantime, Activision is doubling up XP and Battle Pass progress all this weekend, as Season One wraps up.
[source callofduty.com]