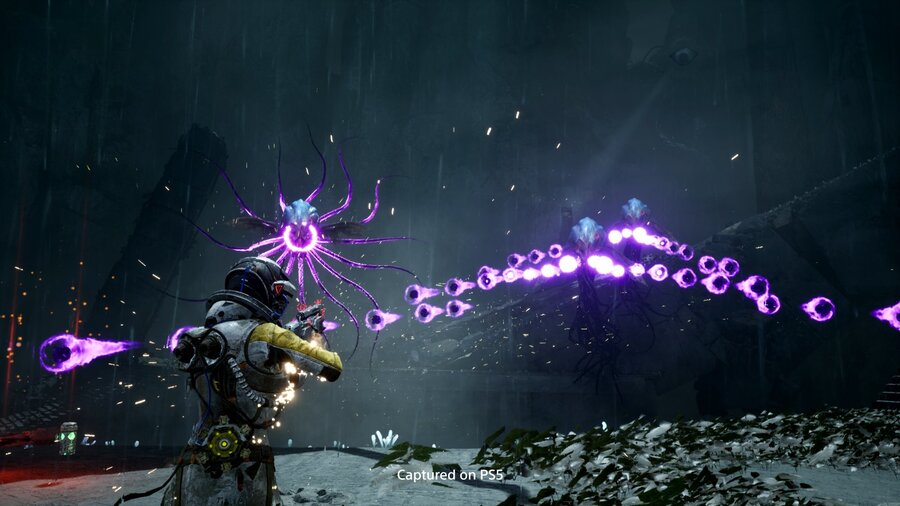 Make sure you're not overlooking Returnal because this PlayStation 5 exclusive releasing in 2021 only sounds cooler the more it is discussed. The sci-fi rogue-like transports you to an alien planet and 3D audio is going to play a large part in getting fully immersed in the otherworldly experience. Speaking with The Washington Post, Housemarque explains how it is taking advantage of the feature in a simple but effective manner.
Harry Krueger, Returnal's game director, said: "I think the [moment] that really stands out to me is a very simple one, the drops of rain falling on your head. It sounds weird and maybe too simplistic, but just standing still in the beginning sequence you can focus in on the very nuanced sounds of flames dancing by the wreckage of your ship while a slight drizzle falls from the tree canopy above."
Earlier on in the piece, Krueger explains how the Resogun developer went about recording 3D audio for its upcoming title, touching on how a full team at Housemarque is making it work. "Each sound source is recorded in relation to how a real person would hear the sound actually coming from each direction. It's similar to the way we have always done things, but now we simply record things many times from many directions, apply more nuanced layers, and then of course spend even more time tweaking things in the final product."
Have you pre-ordered the PS5 3D Pulse headset to ensure you pick up on every little audio-based detail in Returnal and other next-gen titles? Let us know in the comments below.
[source washingtonpost.com]