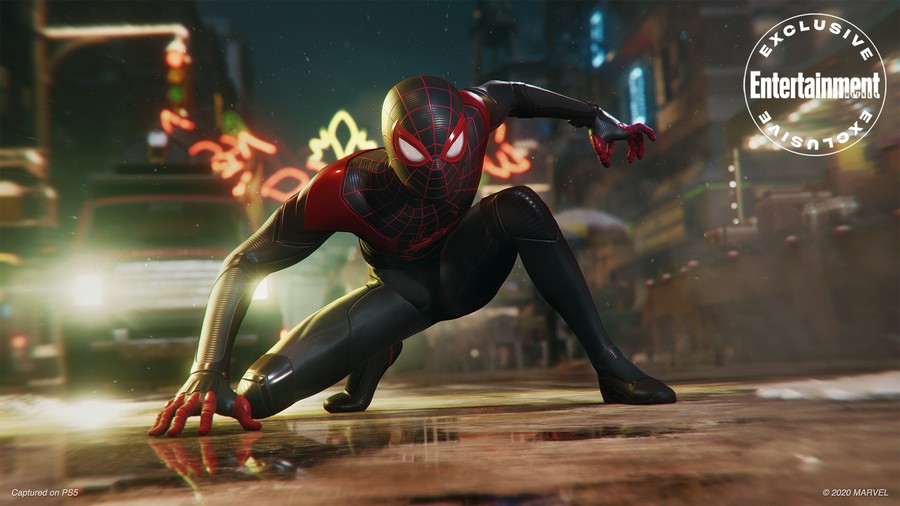 Marvel's Spider-Man: Miles Morales is the biggest next-gen launch game going right now, and we can't wait to catch our next glimpse of it in action following Sony's Future of Gaming event back in June. Entertainment Weekly has helped us along that path, however, with a brand new screenshot of the PlayStation 5 title. It doesn't really give anything away, but it's still a new shot of the web-slinger in action. And honestly, right now, we'll take anything we can get -- this has been a very, very quiet week.
Nevertheless, the screenshot lends more support to the wintery setting of New York and what looks to be a stunning set of PS5 visuals. Entertainment Weekly writes: "The animation, the movements, the mechanics, even his powers (including bioshock and invisibility) aren't just unique tricks for this character, they are metaphors for that hero's journey the pair keep mentioning. Peter's origin "was born out of tragedy" — i.e. the death of his Uncle Ben — but Horton mentions Miles "is more so born out of family. What I think is really compelling about Miles as a character is he has friends that he could actually let into his world — his human world and his Spider world. He's a little different in the way he approaches it."
Consider us hyped for this standalone game. Are you just as excited? Wall crawl in the comments below.
[source ew.com]