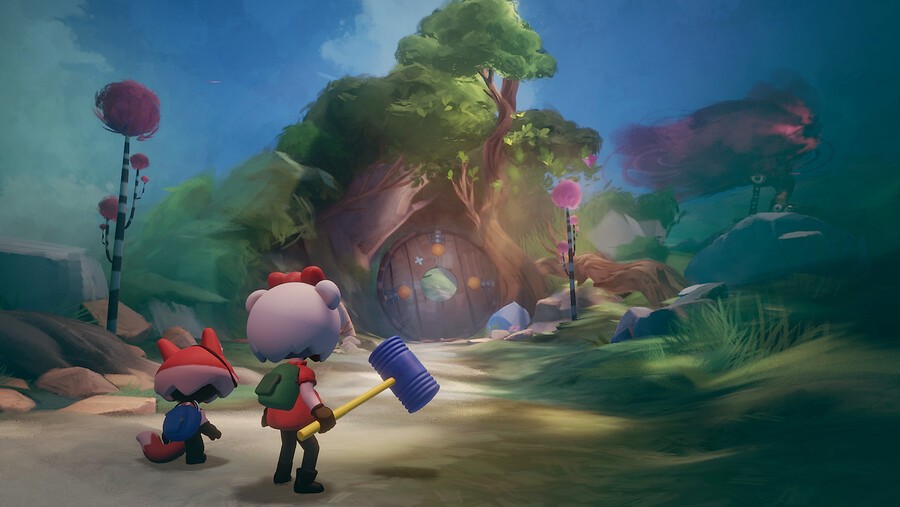 Dreams has unbelievable potential, and provides people with the ability to craft almost anything. We've already seen a multitude of fantastic games made using the in-game suite of tools, and the community continues to build ever more astonishing things. So impressive are some creations that they could feasibly outgrow Dreams and become beloved IP all of their own. But how would that work, exactly? Who owns the rights to your creations, and can you use them outside the game?
Media Molecule's Siobhan Reddy has just published a very interesting blog post over on indreams.me, and it dives into some of these questions. Firstly, "You own the IP for the original creations that you make in Dreams," the studio confirms. Whatever original content you've made belongs to nobody but yourself, which is great to hear.
What's more, you're perfectly within your rights to utilise your creations for personal use -- "in your artwork or music portfolio, in a collage, or a design on your T-shirt", Media Molecule suggests. However, it sounds like the studio is finding ways to support business use of your creations, too.
"We've had lots of questions from creators about using Dreams for viable business opportunities off PlayStation such as concept artwork," writes Reddy. "We welcome and encourage creators to do this, but it's new territory for us. We've been busy behind the scenes mapping out how we can make it easier for creators to do this in the future."
To that end, the studio has developed a beta evaluation programme. Through this, creators will be able to submit an application for the potential use of their creations outside of the game for business reasons. It's only open to certain users -- "Early Access Members in good standing". It sounds like Media Molecule is open to hearing ideas, but some examples of possible uses for Dreams creations outside the game include concept artwork and music videos.
You can download the application form for the evaluation over on this page, which also outlines the various terms and conditions. What do you think of this? Will you be trying to bring your Dreams creations outside of Dreams, potentially for commercial use? Apply in the comments below.
[source docs.indreams.me, via twitter.com]