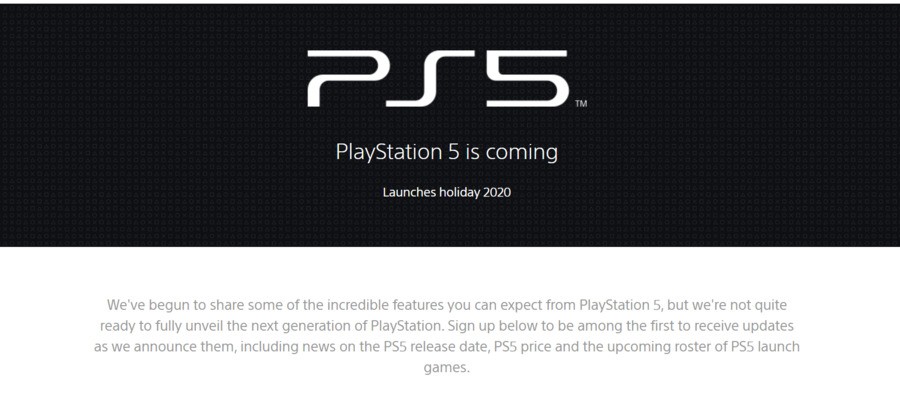 Here's a potentially interesting little story: Sony has added a PlayStation 5 page to its official PlayStation website, playstation.com. The page itself doesn't have much meat to it, but it does feature the previously revealed PS5 logo alongside text that reads "PlayStation 5 is coming. Launches holiday 2020".
It continues: "We've begun to share some of the incredible features you can expect from PlayStation 5, but we're not quite ready to fully unveil the next generation of PlayStation. Sign up below to be among the first to receive updates as we announce them, including news on the PS5 release date, PS5 price and the upcoming roster of PS5 launch games."
Based on data that we've pulled from the site, this page was published, or at least heavily modified, earlier today (4th February 2020). Now, we're not saying that this is anything to immediately get excited about, but given all the February reveal event rumours and the recent PS5 trademarks, it's another small detail that suggests Sony is gearing up for something.
The page says Sony isn't "quite ready" to "fully" reveal the next-gen system, but that could mean anything at this point. The bottom line is that PS5 news is obviously coming -- it's just a question of how and when.
[source playstation.com]