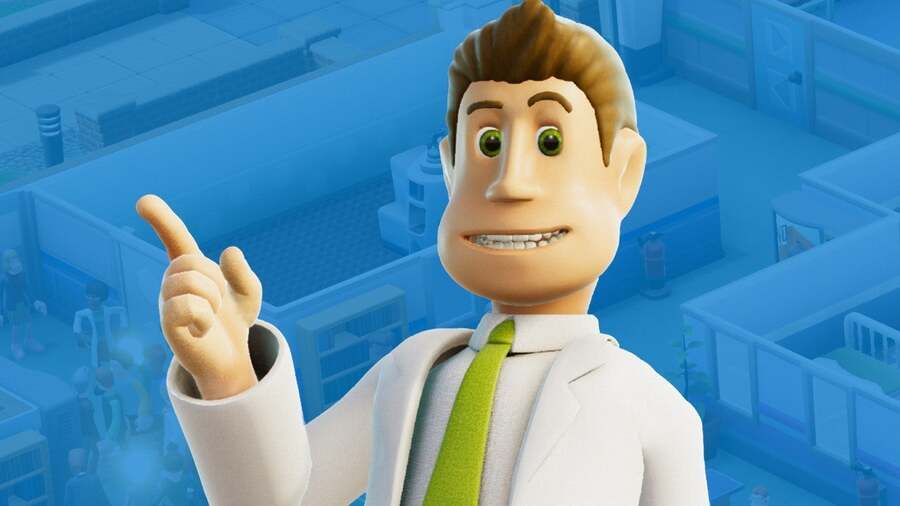 Having poured hundreds of hours into Theme Park and Theme Hospital on the PSone, there's no question that the upcoming Two Point Hospital is one of our most anticipated PlayStation 4 releases. We caught up with game director Mark Webey and creative director Gary Carr to learn a little more about how the title's been optimised for console – as well as what we can expect from the medical management masterpiece next.
Push Square: Two Point Hospital obviously launched a couple of years ago on PC. How have you adapted and optimised it for PS4?
Gary Carr: As you said, we launched in August 2018 and it was a fantastic launch for us, with lots of players and loads of great feedback. Bringing the game to console has challenges – one of them being how we manage controlling a business management sim with a controller rather than a keyboard and mouse.
Mark Webley: Yeah – we have worked really hard on that and have built a new control scheme from the ground up. We knew we had to make it quick, simple, and slick but still let everyone do what they want to do in the game. I think we've pulled it off, but you'll be the judges of course! Building rooms is really simple, it's a case of just pressing a few buttons. And the camera controls are really smooth on dual sticks.
GC: And then, obviously, we've adapted the game a bit to run as well as possible on PS4. We've made some graphical tweaks and changes but have been really keen to retain the same look and feel that everyone loved on PC. We also added an overview map, so when you pull the camera right out you get this bird's eye view of your hospital. It's nice for planning out busy hospitals and keeping an eye on patient flow.
What's the process behind dreaming up some of Two Point Hospital's zanier diseases and illnesses? Do you have a whiteboard filled with wacky conditions?
MW: Well, with our mature senses of humour these things happen almost organically "out loud" in the office. It'll usually start with a joke and spiral from there.
GC: Sometimes an illness will come from an idea from one of the artists messing around with mad models and animations, and then we'll try to come up with funny names for them. Sometimes someone will just come out with something ridiculous and the artists will work from there. It's a truly mad creative process, but it seems to work!
MW: We're often accused of making "dad jokes", but I think we're far worse than that...
You've released a handful of expansion packs for Two Point Hospital on PC already. Can we expect the game to continue to grow on PS4?
GC: We're going to see how it goes and what our fans want on console. We've always taken our cues from them first and foremost.
MW: What he's saying is that we haven't decided yet.
GC: Well, more that if people want it, we'll look to give them what they want.
Theme Park and Theme Hospital were two of our favourites on PSone. Why do you think the business management genre has been so underserved on PS4?
MW: I think people think of PC as the "home" of strategy and business management games, but if it's approached with love and passion, rather than simply trying to emulate a mouse, the controller is an excellent interface for sim games, such as Two Point Hospital.
GC: Control schemes obviously play a part, but if you can crack them, you're half way there. There's no reason why management sims can't find a whole new audience on console, and with Two Point Hospital I think we've got a great chance of doing that.
MW: We're very living room-friendly. The game looks great on a big screen and plays well from the sofa. Or the toilet if you're playing on Switch.
What does the future hold for Two Point Studios? Are you looking to explore this genre further, or do you have plans to do something different?
GC: This is just the start for us – we have so many ideas for games set in Two Point County. You name it, we're thinking of it.
MW: Yeah, we've always had this vision of a series of management games sharing a single world. So, we're currently working on our second game, but even that is just the start.
GC: Eventually all these games will sit alongside each other in this single world. It'll be magical.
---
A huge thank you to both Mark and Gary for taking time out of their schedule to talk to us today. Are you looking forward to Two Point Hospital? Build a GP's office in the comments section below.