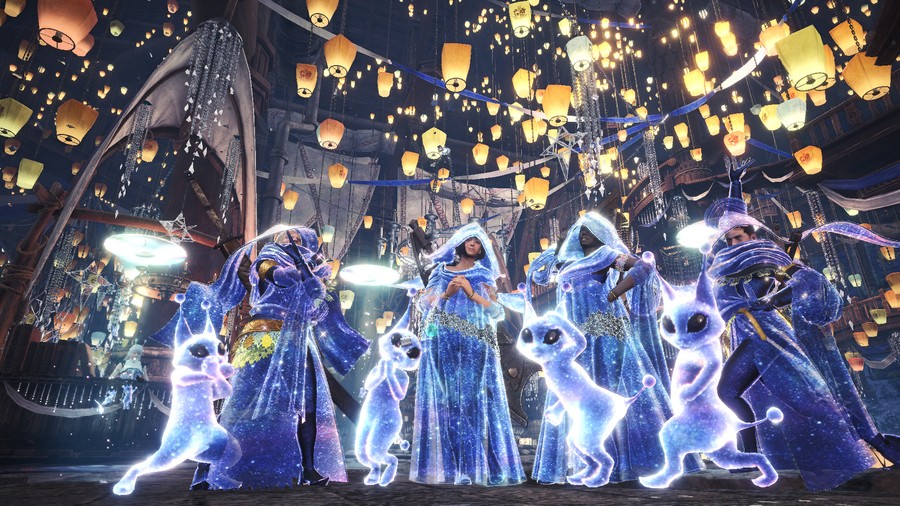 Monster Hunter World's latest limited time event, the Grand Appreciation Fest, is now live on PlayStation 4, although it's worth noting that you'll need Iceborne in order to experience the event to its fullest. Celebrating the second anniversary of the game's release, you can take on a number of new quests and forge some weird weapons and armour. Oh, and new layered armour sets have also been added for good measure.
The Grand Appreciation Fest runs from the 24th January to the 13th February, so you've got around three weeks to dig in. Here's a quick breakdown of the newly added quests from Capcom:
"Flora Frostbite" – Fulfil a quick delivery request of 10 Iceblooms to craft the Wyverian Ears headgear.
"50 Shades of White" – Successfully hunt a Barioth in the Arena and get special materials to craft a dazzling assortment of weapons!
"Beef is Never a Mi-Steak" – Something "so tasty" is making its way back onto the menu... as a hammer! Survive this Wildspire Waste hunt to craft your own!
"A Shocking Climax" – Overcome this special quest to earn the coveted Unity Symbol. This item can be used to craft a variety of unique gear (including a Hammer and some Palico sets), and upgrade several special collaboration weapons into Master Rank.
Will you be diving back into Monster Hunter this weekend? Sharpen your weapon of choice in the comments section below.
[source capcom-unity.com]