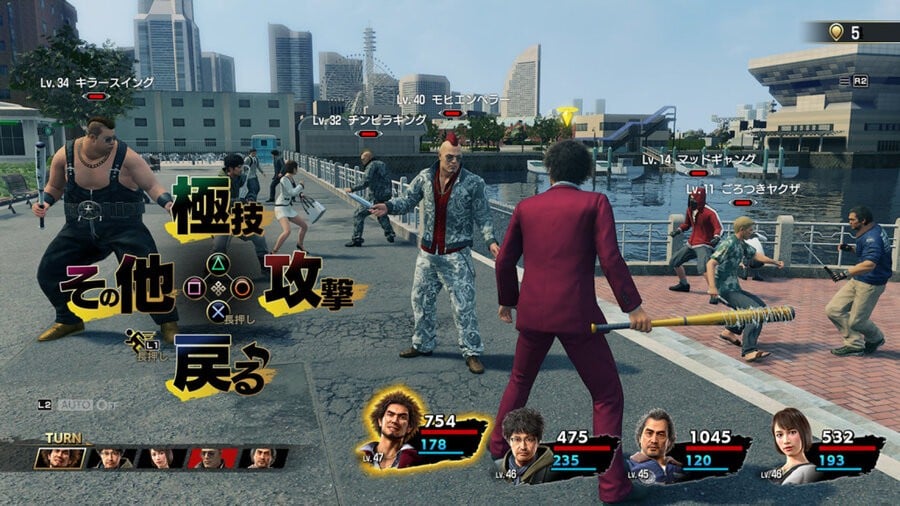 There's been a lot of commotion over the revelation that Yakuza 7 will feature a turn based battle system. The series has boasted action combat for so long now that thought of such drastic change has taken many fans by surprise -- but how does Yakuza: Like a Dragon (as it's called here in the West) actually play?
Well, one thing's for sure: it certainly doesn't sound like your average role-playing game. Director Toshihiro Nagoshi has shared a number of details -- as translated be Gematsu -- and they all add up to a very unique-sounding system.
Okay, so the bottom line is that this is still a command-based system in which characters take turns to attack. However, you're free to move your party around during a fight. And it's not just a case of selecting an action, watching it play out, and then repeating the process until you win or lose. "If what you're picturing is an old school command RPG, then that's the wrong impression. This will be completely different," says Nagoshi.
It sounds like the whole thing's very dynamic. Battles begin right there and then with no load screens or any kind of cutaway. Attacks and movement can be interrupted by other enemies, characters can trip and fall over objects on the ground, and according to Nagoshi, "there are some tricks here and there, and if you learn them, you can play with the same habit of playing an action game". There are also "attack inputs" for additional blows, and Nagoshi reckons that "if you didn't know what it was, you would think you're playing an action game".
Going by what we've read, we think that it's more about selecting an action and then making snap decisions as all kinds of mad stuff unfolds based on where your characters are, where the enemies are, and the kind of environment you're brawling in. Again, it all sounds very dynamic.
Other details include the option to have main character Ichiban's party members act on their own (Nagoshi says the artificial intelligence is pretty good), and according to Nibel on Twitter, you can even assign jobs to your pals, supposedly altering their specialities in combat.
Oh, and apparently, Yakuza: Like a Dragon is going to be longer than previous Yakuza titles, presumably because it's more of an RPG. Hopefully it doesn't outstay its welcome.
What are your thoughts on the next Yakuza? Sound good? Bad? Whatever your opinion, select a command in the comments section below.
[source gamestalk.net, via gematsu.com, ryokutya2089.com, twitter.com]