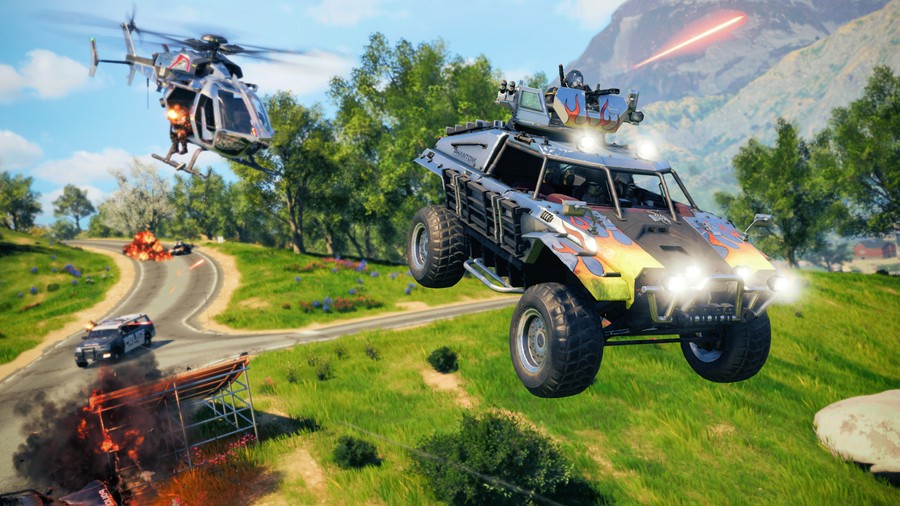 Call of Duty: Modern Warfare's open beta might have been all the rage this past weekend, but if you're looking to keep yourself on a COD high, Call of Duty: Black Ops 4's latest major update is available now on PlayStation 4. Called Operation Dark Divide, it includes a new Blackout mode, more maps for multiplayer, and an all-new Zombies Experience.
What will probably be the game's final big update brings a ton of new features and modes to all players, while those who own the Black Ops Pass get a couple of exclusive bonuses. Available for everyone right now is a new Blackout mode, titled Heavy Metal Heroes. This twist on the battle royale concept adopts a comic book aesthetic and focuses on vehicles. There's even a tank in Blackout now!
More vehicles are air dropped throughout the match and players can call in Tanks with Flare Guns found across the map. To combat the multitude of vehicles, players are given a thrust ability to "double jump" and can find Hellion Salvo Operators which can take out the armored fleet. Plus, the map has been outfitted with ramps for players who enjoy revving up and over the enemy.
If you own the Black Ops Pass, Operation Dark Divide gets a whole lot better with two new maps for multiplayer battles. Lair kits you out in the latest and greatest weaponry in front of an active volcano, while Launch from the original Call of Duty: Black Ops on PlayStation 3 returns with a new look. Meanwhile, Zombies players get the chance to wrap up the game's undead storyline with Tag Der Toten. Sprinkled throughout the update are a number of new weapons and items.
Are you heading back to Call of Duty: Black Ops 4 to check all this new content out? Let us know in the comments below.
[source treyarch.com]