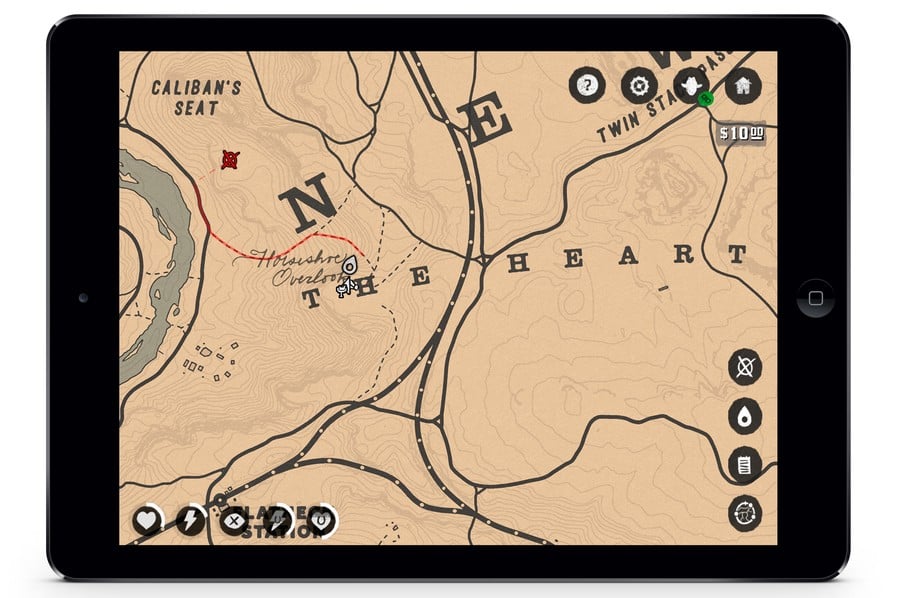 Rockstar has released an official Red Dead Redemption 2 Companion App on both iOS and Android. This second-screen application allows you to extend your open world Western experience, providing you with more options and putting important information at your fingertips. The app launched alongside the full game, so it's available to download on the App Store and Google Play right now -- but how do you use it, and what can it do? Allow us to explain.
Red Dead Redemption 2 Companion App - how do you get it?
Whether your device is running iOS or Android, simply go to your respective app store and search for Red Dead Redemption 2 Companion App. It should be the first result, but to be sure, check the developer is Rockstar Games. The app doesn't cost anything, so simply tap the button to download it, and wait for it to install. It should only take a minute or two.
How do you set up the Red Dead Redemption 2 Companion App?
Getting the companion app is easy -- it's setting it up that's the tricky part. Obviously you need the game and the companion app itself, but you'll also need a Social Club account.
Social Club is Rockstar's account system for the online aspects of its games. Click here to go to the Social Club homepage where you can sign up. You can also sign up for an account on your PS4, if you prefer. Once you've created your account, you'll need to link it with your PSN account, which you can do by signing into Social Club when you boot up Red Dead Redemption 2. Instead of pressing X for 'Story', press triangle to go to 'Social Club', and follow the steps to ensure your accounts are hooked up.
Once you're confident your Social Club and PSN accounts are linked, it's time to fire up the app. You'll need to sign in with your Social Club account before you can get any further. Next, you should see the app's main menu. If you haven't got Red Dead Redemption 2 fired up on your PS4 already, start the game and load your most recent save.
At this point, go back to the companion app and tap the cowboy icon in the top right. If you're signed in correctly, the window that pops up should begin searching for your console. Tap it once it appears, and the app should link up with your game. You'll know it's successful when there's a little green indicator on the cowboy icon.
What does the Red Dead Redemption 2 Companion App do?
There are lots of things you can do with the companion app. Here are the most useful things the app brings to the Red Dead Redemption 2 experience.
View the map
You can view the in-game map in its entirety on your device. Better still, it's interactive -- you can zoom in and out, view mission information, and set waypoints, and it'll even track your location in real time.
Shop for food, ammo, medicine, and more
Within the app, you can view various catalogues that offer in-game items such as food, tonics, ammunition, clothing, weapons, and lots more. You can even buy anything with the money in Arthur's wallet and it'll be delivered to you in the game.
View your progress
If you don't fancy dipping into Red Dead Redemption 2's pause menu to look for it, you can view your progress in the game via the app. It gives you a very detailed breakdown of Arthur's current state, as well as how far along you are with the game's missions, side content, collectibles, and more.
Read Arthur's journal
As you play Red Dead Redemption 2, Arthur's journal will be updated with his thoughts on the things you see and do. You can leaf through all of his sketches and writings in the app, and view the gang's savings too.
Download and view the game manual
Unsure how something works in Red Dead Redemption 2? You can download the game's manual to the app, which has lots of useful information that just might answer your question. Useful if you're not clear on how a system works and you want a quick and easy way to look it up.
Purchase the official Red Dead Redemption 2 strategy guide
Along with the game manual, you can also turn your app into an official strategy guide if you really want to get the most out of Red Dead Redemption 2. The guide costs £9.99 and provides you with all the best info on every little detail in the game, so if you're planning on getting that Platinum, it could be worth investing.