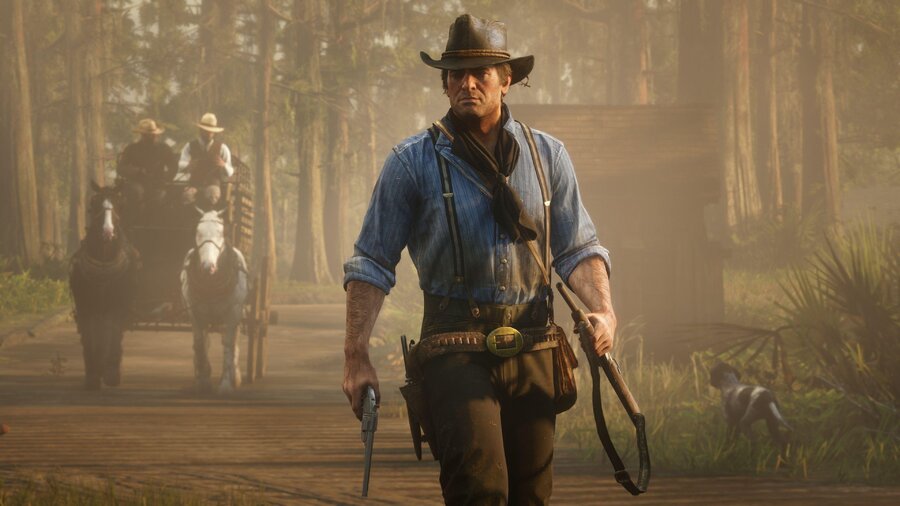 As if we need to even ask the question this week, eh? Spoilers: practically everyone's playing Red Dead Redemption 2 this week. Let's see if the comments paint a similar picture, shall we?
Sammy Barker, Editor
Yeah, Red Dead Redemption 2 for me. The controls are about as comfortable as rubbing your hands against a cheese grater, but I already appreciate the title's obsessive attention to detail. It's been a long wait, but I'm so excited the game's finally here.
Robert Ramsey, Deputy Editor
Red Dead 2! Red Dead 2! Red Dead 2! 75 hours in and it's still amazing! Red Dead 2! Red Dead 2! Red Dead 2!
Stephen Tailby, Senior Staff Writer
Well, with nothing new out at the moment, I'll probably just spend some quality time with my loved ones. [Oh you rascal! I've seen you on PSN, you're playing Red Dead Redemption 2 – Ed]
Alex Stinton, Reviewer
It's a Red Dead weekend for me, since Rockstar Games oft delayed sequel has finally arrived. That unfortunately means Assassins Creed: Odyssey will have to go on the back burner for a while. The same can't be said for Call of Duty: Black Ops 4, as my addiction to the Blackout mode must be fed.
Annette Magaña, Reviewer
I might be the only one not causing mayhem in the Wild West [C-c-c-combo breaker - Ed]. Besides, all the voices inside of my head tell me to play some Devil May Cry. No, not the unspeakable remake [The remake's great - Ed]. If I want to procrastinate, then perhaps I might play some Castlevania too, since you know, the second season is finally out on Netflix.
Christian Kobza, Reviewer
This weekend will be all Red Dead Redemption 2 all the time except for a few brief breaks here and there to play more of Black Ops 4's Blackout which I'm enjoying way more than I anticipated.
Jamie O'Neill, Reviewer
In previous editions of WAYP my fellow writers were playing scary titles for their pre-Hallowe'en gaming fix, so I'll follow in their footsteps around creepy locations by firstly focusing on the 1993 game Castlevania: Rondo of Blood on PS4. It must be an impressive week of releases if I'm seated for a requiem rather than seeking out redemption.
Nicole Hall, Reviewer
A hectic week has had me mainly dabbling in games. I had the pleasure of breaking it early in Fallout 76, an experience that eased my restless mind of multiplayer concerns. I loaded up ARK with the latest expansion on the horizon taming myself a Yutyrannus (a fluffy T-Rex), and lost countless hours in LEGO DC Super-Villains, the best LEGO game to date.
Rebecca Stow, Reviewer
While I wait for my digital download of Red Dead Redemption 2 to download I've been playing Pinstripe which is a really enjoyable indie game with a dark narrative hidden behind a simplistic exterior. With a running time of two hours sitting down with this game is a great way to enjoy an evening.
---
There actually weren't as many Red Dead Redemption 2 responses as anticipated, but still more than enough. Now it's over to you. What are you playing this weekend?