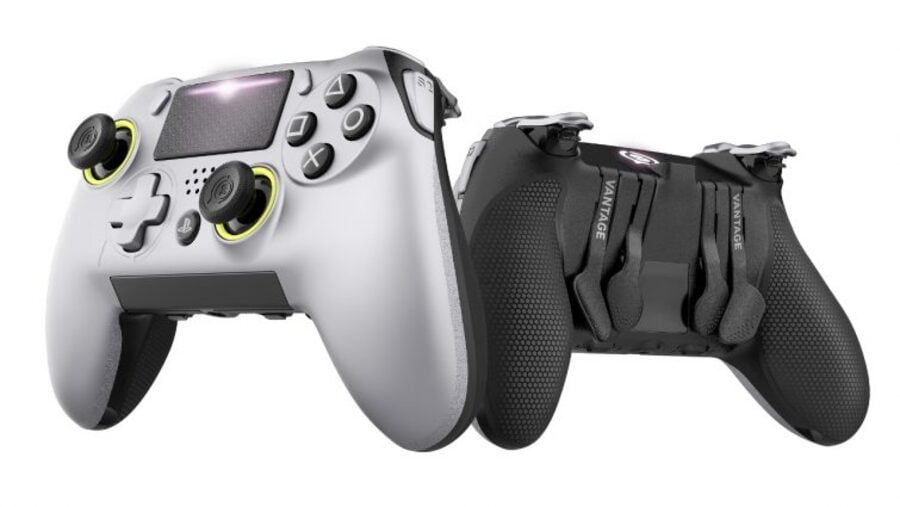 A new, officially licensed PlayStation 4 'pro' controller has been revealed, this time from Scuf Gaming. The company's known for crafting custom pads, and the Scuf Vantage comes with all of the bells and whistles that you'd expect. Except the left analog stick is stuck up at the top. Ugh.
To be fair, the Vantage sounds pretty impressive. Here's everything it does broken down into neat little bullet points:
Side-mounted right and left 'Sax' buttons – designed to fit the natural placement of a player's fingers and provide additional configurability
Removable faceplate – makes it easy to change thumb sticks & personalize the controller
Advanced audio control for wired connection – a simple swipe of the audio touch bar adjusts the volume while players can keep their hands on the controller
Removable vibration modules – players can reduce the weight of the controller and lessen hand fatigue
Paddle control system with four removable back paddles
A quick-access remapping switch
Customizable thumb sticks with 3 different heights in either a concave or convex configuration
Adjustable Hair triggers
Trigger stops and extenders
Choice of D-pads
Interchangeable magnetic faceplate
Of course, this isn't the first 'pro' controller that Sony has officially marketed -- we even reviewed the Razer Raiju a while back. But once again, this just makes us question why Sony hasn't made its own 'pro' DualShock 4. Quite clearly there's demand for such a controller and the company's obviously aware of it -- why else would Sony be pushing these third-party pads? It's a query that we'll probably never get a proper answer to.
Anyway, what do you make of the Vantage? Would you rather Sony finally wheel out a luxury controller of its own? Reposition your thumbs in the comments section below.
[source blog.us.playstation.com]