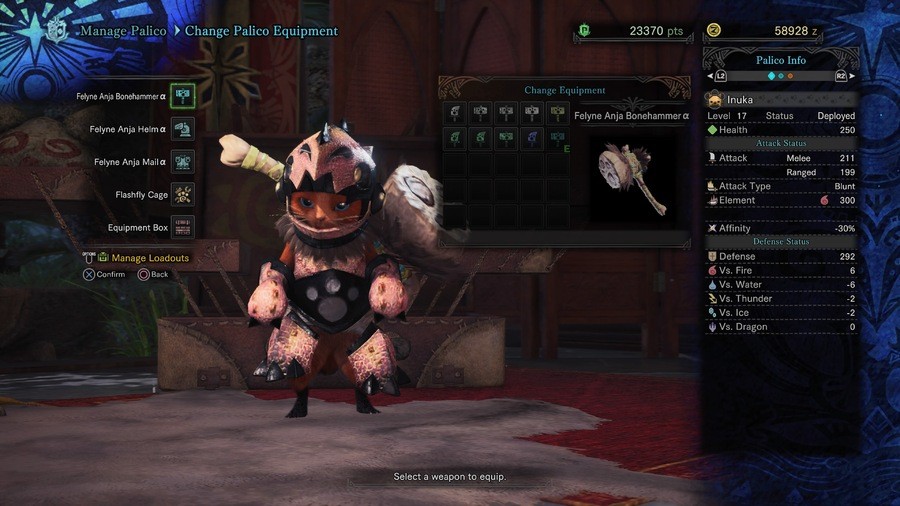 Palico partners are hands down the most adorable addition to Monster Hunter: World. Not only do they fight alongside you in combat and use various different equipment to help you and hinder monsters, but you can also play dress up with them.
In fact, there's almost as many Palico armor sets and weapons as there are for your main character. Each of them look very different from the other as well, and it's a lot of fun choosing your favourite one.
But rather than make you do the hard work in game yourself, we've got all of the armor sets and weapons below. We'll tell you exactly what you need to craft them and show you what they look like visually too.
Low Rank Armor Sets and Weapons
Leather Set
| Parts | Materials Required | Base Defense / Attack | Elemental Defense / Attack |
| --- | --- | --- | --- |
| Felyne Acorn Spade | Iron Ore | Melee: 2 / Ranged: 2 | None |
| Felyne Leather Cap | Iron Ore | 2 | Vs. Fire: 2 |
| Felyne Leather Vest | Iron Ore | 2 | Vs. Fire: 2 |
Bone Set
| Parts | Materials Required | Base Defense / Attack | Elemental Defense / Attack |
| --- | --- | --- | --- |
| Felyne Bone Hammer | Monster Bone S | Melee: 4  Ranged: 2 | None |
| Felyne Bone Helm | Monster Bone S | 4 | Vs. Fire: 2 / Vs. Thunder: 2 / Vs. Dragon: 2 |
| Felyne Bone Mail | Monster Bone S | 4 | Vs. Fire: 2 / Vs. Thunder: 2 / Vs. Dragon: 2 |
Jagras Set
Parts
Materials Required
Base Defense / Attack
Elemental Defense / Attack
Felyne Jag Gunhammer
Great Jagras Claw
Melee: 5 / Ranged: 3
None
Felyne Jagras Helm
Great Jagras Hide
4
Vs. Fire: - 2 / Vs. Water: 2 / Vs. Thunder: - 1 / Vs. Ice: - 1 / Vs. Dragon: 1
Felyne Jagras Mail
Great Jagras Mane
4
Vs. Fire: - 2 / Vs. Water: 2 / Vs. Thunder: - 1 / Vs. Ice: - 1 / Vs. Dragon: 1
Kulu Set
| Parts | Materials Required | Base Defense / Attack | Elemental Defense / Attack |
| --- | --- | --- | --- |
| Felyne Kulu Lute | Kulu-Ya-Ku Scale | Melee: 3 / Ranged: 5 | None |
| Felyne Kulu Turban | Kulu-Ya-Ku Plume | 4 | Vs. Water: - 3 / Vs. Ice: 1 |
| Felyne Kulu Vest | Kulu-Ya-Ku Hide | 4 | Vs. Water: - 3 / Vs. Ice: 1 |
Pukei Set
| Parts | Materials Required | Base Defense / Attack | Elemental Defense / Attack |
| --- | --- | --- | --- |
| Felyne Pukei Bow | Pukei-Pukei Sac | Melee: 4 / Ranged: 6 | Poison: 80 |
| Felyne Pukei Hood | Pukei-Pukei Scale | 6 | Vs. Water: 3 / Vs. Thunder: - 3 / Vs. Dragon: 1 |
| Felyne Pukei Mantle | Pukei-Pukei Quill | 6 | Vs. Water: 3 / Vs. Thunder: - 3 / Vs. Dragon: 1 |
Alloy Set
Parts
Materials Required
Base Defense / Attack
Elemental Defense / Attack
Felyne Iron Sword
Machalite Ore
Melee: 2 / Ranged: 4
None
Felyne Alloy Helm
Machalite Ore

4
Vs. Fire: - 2 / Vs. Thunder: - 2 / Vs. Ice: - 2
Felyne Alloy Mail
Machalite Ore

4
Vs. Fire: - 2 / Vs. Thunder: - 2 / Vs. Ice: - 2

Barroth Set
| Parts | Materials Required | Base Defense / Attack | Elemental Defense / Attack |
| --- | --- | --- | --- |
| Felyne Barroth Mace | Barroth Claw | Melee: 12 / Ranged: 8 | None |
| Felyne Barroth Helm | Barroth Scalp | 6 | Vs. Fire: - 3 / Vs. Water: - 1 / Vs. Thunder: 3 / Vs. Ice: - 1 |
| Felyne Barroth | Barroth Shell | 6 | Vs. Fire: - 3 / Vs. Water: - 1 / Vs. Thunder: 3 / Vs. Ice: - 1 |
Jyura Set
| Parts | Materials Required | Base Defense / Attack | Elemental Defense / Attack |
| --- | --- | --- | --- |
| Felyne Jyura Sword | Jyuratodus Fang | Melee: 7 / Ranged: 6 | Water: 100 |
| Felyne Jyura Helm | Jyuratodus Fin | 8 | Vs. Fire: - 1 / Vs. Water: 2 / Vs. Thunder: - 3 |
| Felyne Jyura Mail | Jyuratodus Scale | 8 | Vs. Fire: - 1 / Vs. Water: 2 / Vs. Thunder: - 3 |
Kadachi Set
Parts
Materials Required
Base Defense / Attack
Elemental Defense / Attack
Felyne Kadachi Fork
Tobi-Kadachi Claw
Melee: 6 / Ranged: 5
Thunder: 140
Felyne Kadachi Hood

Tobi-Kadachi Scale

8
Vs. Water: - 3 / Vs. Thunder: 3
Felyne Kadachi Suit

Tobi-Kadachi Pelt

8
Vs. Water: - 3 / Vs. Thunder: 3

Anja Set
| Parts | Materials Required | Base Defense / Attack | Elemental Defense / Attack |
| --- | --- | --- | --- |
| Felyne Anja Bonehammer | Anjanath Fang | Melee: 14 / Ranged: 12 | Fire: 160 |
| Felyne Anja Helm | Anjanath Scale | 10 | Vs. Fire: 3 / Vs. Water: - 3 / Vs. Thunder: - 1 / Vs. Ice: - 1 |
| Felyne Anja Mail | Anjanath Pelt | 10 | Vs. Fire: 3 / Vs. Water: - 3 / Vs. Thunder: - 1 / Vs. Ice: - 1 |
Rathian Set
| Parts | Materials Required | Base Defense / Attack | Elemental Defense / Attack |
| --- | --- | --- | --- |
| Felyne Rathian Rapier | Rathian Spike | Melee: 10 / Ranged: 8 | Poison: 90 |
| Felyne Rathian Helm | Rathian Scale | 10 | Vs. Fire: 2 / Vs. Thunder: - 2 / Vs. Dragon: - 3 |
| Felyne Rathian Mail | Rathian Shell | 10 | Vs. Fire: 2 / Vs. Thunder: - 2 / Vs. Dragon: - 3 |
Lumu Set
Parts
Materials Required
Base Defense / Attack
Elemental Defense / Attack
Felyne Lumu Pawpads
Paolumu Shell
Melee: 10 / Ranged: 12
None
Felyne Lumu Hat

Paolumu Scale

10
Vs. Fire: - 3 / Vs. Water: 2 / Vs. Ice: 1
Felyne Lumu Cape

Paolumu Pelt

10
Vs. Fire: - 3 / Vs. Water: 2 / Vs. Ice: 1

Baan Set
| Parts | Materials Required | Base Defense / Attack | Elemental Defense / Attack |
| --- | --- | --- | --- |
| Felyne Baan Ball | Wyvern Bonemass | Melee: 10 / Ranged: 8 | Sleep: 55 |
| Felyne Baan | Radobaan Oilshell | 12 | Vs. Water: 2 / Vs. Ice: - 1 / Vs. Dragon: - 2 |
| Felyne Baan Suit | Radobaan Scale | 12 | Vs. Water: 2 / Vs. Ice: - 1 / Vs. Dragon: - 2 |
Ladybug Set
| Parts | Materials Required | Base Defense / Attack | Elemental Defense / Attack |
| --- | --- | --- | --- |
| Kitty-of-the-Valley Rod | Great Hornfly | Melee: 10 / Ranged: 8 | Paralysis: 55 |
| Felyne Ladybug Cap | Great Hornfly | 8 | Vs. Fire: - 1 / Vs. Water: - 1 / Vs. Thunder: 2 / Vs. Dragon: 2 |
| Felyne Ladybug Wings | Great Hornfly | 8 | Vs. Fire: - 1 / Vs. Water: - 1 / Vs. Thunder: 2 / Vs. Dragon: 2 |
Legiana Set
Parts
Materials Required
Base Defense / Attack
Elemental Defense / Attack
Felyne Legiana Sword
Legiana Claw
Melee: 8 / Ranged: 8
Ice: 180
Felyne Legiana Helm

Legiana Hide

14
Vs. Fire: - 1 / Vs. Water: 2 / Vs. Thunder: - 3 / Vs. Ice: 3

Felyne Legiana Mail

Legiana Webbing

14
Vs. Fire: - 1 / Vs. Water: 2 / Vs. Thunder: - 3 / Vs. Ice: 3

Odogaron Set
| Parts | Materials Required | Base Defense / Attack | Elemental Defense / Attack |
| --- | --- | --- | --- |
| Felyne Garon Chainblade | Odogaron Claw | Melee: 11 / Ranged: 11 | None |
| Felyne Odogaron Helm | Odogaron Scale | 14 | Vs. Fire: 2 / Vs. Water: 2 / Vs. Thunder: - 2 / Vs. Ice: - 3 |
| Felyne Odogaron Mail | Odogaron Sinew | 14 | Vs. Fire: 2 / Vs. Water: 2 / Vs. Thunder: - 2 / Vs. Ice: - 3 |
Rathalos Set
| Parts | Materials Required | Base Defense / Attack | Elemental Defense / Attack |
| --- | --- | --- | --- |
| Felyne Rathalos Blade | Rathalos Scale | Melee: 16 / Ranged: 14 | Fire: 120 |
| Felyne Rathalos Helm | Rathalos Shell | 16 | Vs. Fire: 3 / Vs. Water: 1 / Vs. Thunder: - 2 / Vs. Ice: 1 / Vs. Dragon: - 3 |
| Felyne Rathalos Mail | Rathalos Shell | 16 | Vs. Fire: 3 / Vs. Water: 1 / Vs. Thunder: - 2 / Vs. Ice: 1 / Vs. Dragon: - 3 |
Diablos Set
Parts
Materials Required
Base Defense / Attack
Elemental Defense / Attack
Felyne Diablos Hammer
Diablos Tailcase
Melee: 18 / Ranged: 10
None
Felyne Diablos Helm
Twisted Horn
16
Vs. Fire: 3 / Vs. Water: - 2 / Vs. Ice: - 3 / Vs. Dragon: 2

Felyne Diablos Mail
Diablos Shell

16
Vs. Fire: 3 / Vs. Water: - 2 / Vs. Ice: - 3 / Vs. Dragon: 2

Watcher Set
| Parts | Materials Required | Base Defense / Attack | Elemental Defense / Attack |
| --- | --- | --- | --- |
| Felyne Watcher Grinder | Watcher Lens / Electro Sac | Melee: 14 / Ranged: 8 | Thunder: 160 |
| Felyne Watcher Head / Body | Watcher Lens x 2 / Dragonite Ore x 3 | 20 | Vs. Fire: 2 / Vs. Thunder: - 2 |
High Rank Armor Sets and Weapons
Leather Set Alpha
| Parts | Materials Required | Base Defense / Attack | Elemental Defense / Attack |
| --- | --- | --- | --- |
| Felyne Acorn Spade Alpha | Piercing Claw | Melee: 25 / Ranged: 14 | None |
| Felyne Leather Cap Alpha | High-quality Pelt | 28 | Vs. Fire: 2 |
| Felyne Leather Vest Alpha | High-quality Pelt | 28 | Vs. Fire: 2 |
Bone Set Alpha
Parts
Materials Required
Base Defense / Attack
Elemental Defense / Attack
Felyne Bone Hammer Alpha
Quality Bone
Melee: 30 / Ranged: 10
None
Felyne Bone Helm Alpha
Quality Bone
30
Vs. Fire: 2 / Vs. Thunder: 2 / Vs. Dragon: 2
Felyne Bone Mail Alpha
Quality Bone
30
Vs. Fire: 2 / Vs. Thunder: 2 / Vs. Dragon: 2
Jagras Set Alpha
| Parts | Materials Required | Base Defense / Attack | Elemental Defense / Attack |
| --- | --- | --- | --- |
| Felyne Jag Gunhammer Alpha | Great Jagras Claw+ | Melee: 32 / Ranged: 12 | None |
| Felyne Jagras Helm Alpha | Great Jagras Hide+ | 32 | Vs. Fire: - 2 / Vs. Water: 2 / Vs. Thunder: - 1 / Vs. Ice: - 1 / Vs. Dragon: 1 |
| Felyne Jagras Mail Alpha | Great Jagras Scale+ / Great Jagras Mane | 32 | Vs. Fire: - 2 / Vs. Water: 2 / Vs. Thunder: - 1 / Vs. Ice: - 1 / Vs. Dragon: 1 |
Kulu Set Alpha
| Parts | Materials Required | Base Defense / Attack | Elemental Defense / Attack |
| --- | --- | --- | --- |
| Felyne Kulu Lute Alpha | Kulu-Ya-Ku Scale+ | Melee: 26 / Ranged: 12 | None |
| Felyne Kulu Turban Alpha | Kulu-Ya-Ku Plume+ | 32 | Vs. Water: - 3 / Vs. Ice: 1 |
| Felyne Kulu Vest Alpha | Kulu-Ya-Ku Hide+ | 32 | Vs. Water: - 3 / Vs. Ice: 1 |
Pukei Set Alpha
Parts
Materials Required
Base Defense / Attack
Elemental Defense / Attack
Felyne Pukei Bow Alpha

Pukei-Pukei Sac+
Melee: 30 / Ranged: 22
Poison: 90
Felyne Pukei Hood Alpha
Pukei-Pukei Scale+
34
Vs. Water: 3 / Vs. Thunder: - 3 / Vs. Dragon: 1
Felyne Pukei Mantle Alpha
Pukei-Pukei Scale+ / Pukei-Pukei Quill
34
Vs. Water: 3 / Vs. Thunder: - 3 / Vs. Dragon: 1
Alloy Set Alpha
| Parts | Materials Required | Base Defense / Attack | Elemental Defense / Attack |
| --- | --- | --- | --- |
| Felyne Iron Sword Alpha | Carbalite Ore | Melee: 20 / Ranged: 18 | None |
| Felyne Alloy Helm Alpha | Carbalite Ore | 30 | Vs. Fire: - 2 / Vs. Thunder: - 2 / Vs. Ice: - 2 |
| Felyne Alloy Mail Alpha | Carbalite Ore | 30 | Vs. Fire: - 2 / Vs. Thunder: - 2 / Vs. Ice: - 2 |
Anja Set Alpha
| Parts | Materials Required | Base Defense / Attack | Elemental Defense / Attack |
| --- | --- | --- | --- |
| Felyne Anja Bonehammer Alpha | Anjanath Fang+ | Melee: 40 / Ranged: 28 | Fire: 300 |
| Felyne Anja Helm Alpha | Anjanath Scale+ | 36 | Vs. Fire: 3 / Vs. Water: - 3 / Vs. Thunder: - 1 / Vs. Ice: - 1 |
| Felyne Anja Mail Alpha | Anjanath Pelt+ | 36 | Vs. Fire: 3 / Vs. Water: - 3 / Vs. Thunder: - 1 / Vs. Ice: - 1 |
Rathian Set Alpha
Parts
Materials Required
Base Defense / Attack
Elemental Defense / Attack
Felyne Rathian Rapier Alpha
Rathian Spike+
Melee: 46 / Ranged: 21
Poison: 105
Felyne Rathian Helm Alpha
Rathian Scale+
36
Vs. Fire: 2 / Vs. Thunder: - 2 / Vs. Dragon: - 3

Felyne Rathian Mail Alpha
Rathian Carapace
36
Vs. Fire: 2 / Vs. Thunder: - 2 / Vs. Dragon: - 3
Ladybug Set Alpha
| Parts | Materials Required | Base Defense / Attack | Elemental Defense / Attack |
| --- | --- | --- | --- |
| Kitty-of-the-Valley Rod Alpha | Monster Broth / Great Hornfly / Omniplegia Sac | Melee: 44 / Ranged: 23 | Paralysis: 75 |
| Felyne Ladybug Cap Alpha | Vespoid Carapace / Great Hornfly | 30 | Vs. Fire: - 1 / Vs. Water: - 1 / Vs. Thunder: 2 / Vs. Dragon: 2 |
| Felyne Ladybug Wings Alpha | Monster Broth / Great Hornfly / Omniplegia Sac | 30 | Vs. Fire: - 1 / Vs. Water: - 1 / Vs. Thunder: 2 / Vs. Dragon: 2 |
Zorah Set Alpha
| Parts | Materials Required | Base Defense / Attack | Elemental Defense / Attack |
| --- | --- | --- | --- |
| Felyne Zorah Puppet Alpha | Zorah Magdaros Magma | Melee: 25 / Ranged: 12 | Blast: 30 |
| Felyne Zorah Crown Alpha | Zorah Magdaros Heat Scale | 36 | Vs. Fire: 4 / Vs. Water: - 3 / Vs. Thunder: - 1 / Vs. Ice: - 2 / Vs. Dragon: - 3 |
| Felyne Zorah Suit Alpha | Zorah Magdaros Pleura | 36 | Vs. Fire: 4 / Vs. Water: - 3 / Vs. Thunder: - 1 / Vs. Ice: - 2 / Vs. Dragon: - 3 |
Rathalos Set Alpha
Parts
Materials Required
Base Defense / Attack
Elemental Defense / Attack
Felyne Rathalos Blade Alpha
Rathalos Scale+
Melee: 45 / Ranged: 25
Fire: 300

Felyne Rathalos Helm Alpha
Rathalos Carapace
42
Vs. Fire: 3 / Vs. Water: 1 / Vs. Thunder: - 2 / Vs. Ice: 1 / Vs. Dragon: - 3
Felyne Rathalos Mail Alpha
Rathalos Carapace
42
Vs. Fire: 3 / Vs. Water: 1 / Vs. Thunder: - 2 / Vs. Ice: 1 / Vs. Dragon: - 3
Bazel Set Alpha
Parts
Materials Required
Base Defense / Attack
Elemental Defense / Attack
Felyne Bazel Mace Alpha
Bazelgeuse Fuse
Melee: 52 / Ranged: 30
Blast: 40
Felyne Bazel Helm Alpha
Bazelgeuse Scale+
50
Vs. Fire: 3 / Vs. Water: 1 / Vs. Thunder: - 4 / Vs. Ice: - 2 / Vs. Dragon: - 2
Felyne Bazel Mail Alpha
Bazelgeuse Carapace
50
Vs. Fire: 3 / Vs. Water: 1 / Vs. Thunder: - 4 / Vs. Ice: - 2 / Vs. Dragon: - 2