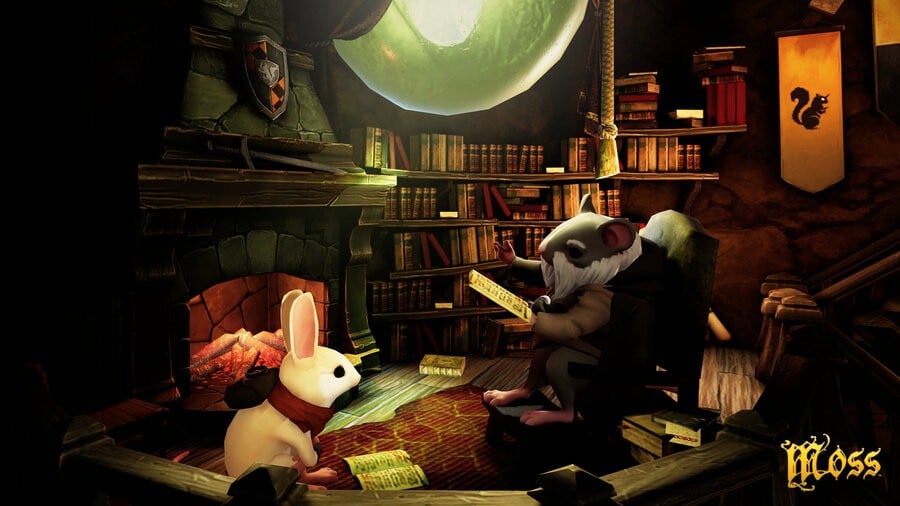 If you're still not convinced by PlayStation VR then you simply have to play Moss, a cutesy puzzle platformer by Polyarc. We've previewed this a couple of times already on Push Square, but it's the first time that yours truly has got some hands-on time. And it really is the revelation that everyone says it is: this is why virtual reality is such an exciting new medium.
The thing about this title is that it doesn't go buck wild with the technology at all. The demo starts in a sprawling cathedral-like setting, where you find yourself facing a story book. Using the DualShock 4's motion sensors as a kind of orb, you're able to grab the cover of the hardback and open it up. You're pulled inside a lush, forest-like environment. Beneath you is a pool of water and a face staring back at you – suddenly you're inside the world.
But you're not the only person that exists in this fiction: a sprightly mouse armed with a sword appears not long after, and this is your character to control. While most of the action in this demo takes place in front of you, the effect is sublime – it's an extremely comfortable game to play due to the lack of motion, but it couldn't be achieved without PlayStation VR because everything occurs around you.
In essence this is a puzzle platformer, with switches to set up and doors to open, but the DualShock 4's motion controls also equip you with an attachment to the world. While you control the mouse with the analogue stick and face buttons, you can also reach out and pick up objects, giving you a sense that you really are giving this rodent a helping hand. You can peer in closely and get a better look at the gorgeous environments, or just sit back and let the action unwind all around you.
The conclusion of the demo teases a giant snake boss, suggesting there may be some set-pieces in the final release. We certainly hope so because the potential for this one is off-the-charts – it really is an imaginative demonstration of the kind of unique experiences only PlayStation VR can deliver. One to watch, without a doubt.
---
Are you eager to have a mosey at Moss? Are you slowly warming the wonders of virtual reality? Make friends with a mouse in the comments section below.