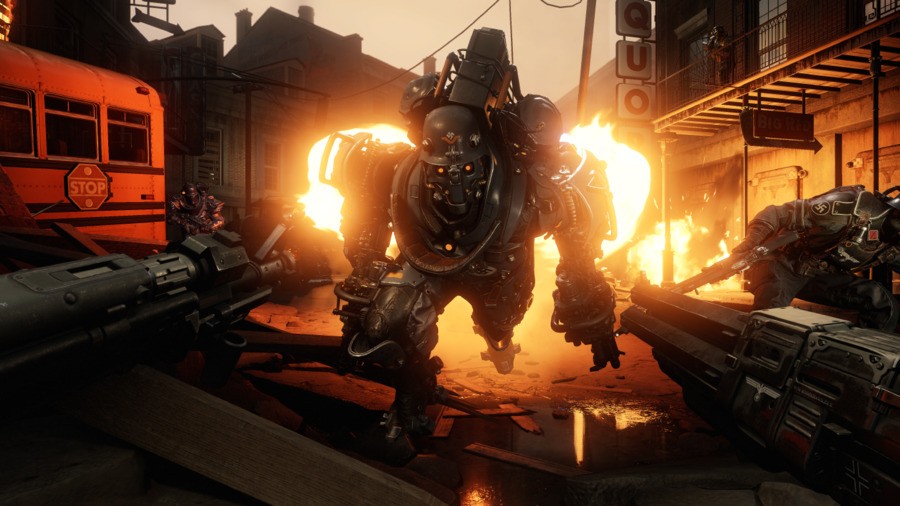 If DOOM and Titanfall 2 were signs of the first-person shooter genre's revitalization last year, then 2014's Wolfenstein: The New Order was the forerunner of this unexpected movement. With an impossibly ridiculous yet serious story that rivals the Metal Gear Solid series' tone and impeccable gunplay that combines the old and new school, it remains one of this author's favorite first-person shooters, which made Wolfenstein II: The New Colossus' official reveal with a lengthy trailer all the more exciting during Bethesda's E3 2017 conference. Since we found out we're traveling to the USA to annihilate more Nazis, small details have come to the front of the battlefield revealing Machinegames' direction with the sequel and what players can expect.
While a new trailer below has some additional gameplay footage discussing the character and motives behind B.J., more interesting details can be gleaned from a short interview that Creative Director Jens Matthies and Executive Producer Jerk Gustafsson had during PlayStation Live. With a new engine in tow, Machinegames designed to rebuild the first-person experience by reconsidering every facet of the gunplay and perspective.
"We're doing a complete overhaul of the player [with] all new weapons, Gustafsson said. "We're adding a lot more upgrades, a lot more abilities, a lot more perks, and everything like that. So, in terms of how much freedom you'll have as a player in terms of how you move or perform combat, it's also a big step up."
Players will be able to duel-wield any combination of weapons now, so you can stay stealthy with a silenced pistol in one hand with a shotgun ready to go in the other. Various contraptions will act as extensions of B.J. similar to the Nazi mech that he uses to kill hoards of zombies in The Old Blood. However, they will be more diverse with "stilts" that you can use to make giant leaps, allowing the developers to play with more verticality. There will be contraptions for stealth and "mayhem" as well, but how those will function is unknown. Machinegames is also aiming to tell a more intimate, story-driven game this time, which they make clear by desiring to call A New Colossus an "action-adventure" title instead of a shooter alone. With over a hundred characters and 40 days of performance capture put into the exclusively single-player title, it's easy to see that the team means it. You can check out the full interview below.
Matthies also casually confirmed that the studio will produce a third and presumably final game in its "trilogy" if its plans come to fruition, so we're wishing the best to Machinegames that The New Colossus will earn good reception and strong sales upon its release on Oct. 27 so we can see B.J.'s unbreakable will to kill Nazis come full circle. Are you ready to travel to the Land of the Free and liberate the American people from the Nazi's grip? Go akimbo in the comments section to tell us your reactions to Machinegame's latest.