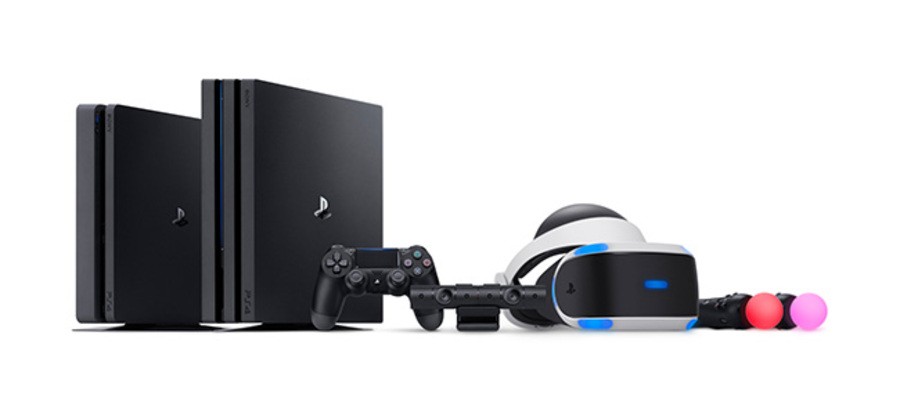 Sony announced two new consoles at its PlayStation Meeting press conference today: the new PS4 Pro system and the already-leaked PS4 Slim. But with reactions mixed across the web, what do we think of the Japanese giant's bold new strategy? In this article, editors Sammy Barker and Robert Ramsey react to today's presser.
Sammy Barker, Editor
I think Sony misjudged today's PlayStation 4 Pro press conference in a number of ways, but it won't matter one iota when the new PS4 product line is ripping up the record books this holiday. It was always going to be immensely challenging for the platform holder to demonstrate the advantages of a more powerful platform in a comparatively low-quality livestream, and the emphasis on features like high-dynamic range and even 4K resolution didn't really play.
You could see the added horsepower of the new hardware shine through in demos like Horizon: Zero Dawn and Call of Duty: Infinite Warfare, however – both of which are pushing the doubled up GPU, and are sure to look absolutely mind-blowing in the inevitable Digital Foundry comparisons to come. The popular Eurogamer.net sub-publication is the real winner in this era of mid-generation upgrades, by the way.
But I do think Sony is on to a sure-hit, too – even if you're not feeling it right now. It made pretty clear during its media briefing that it doesn't care which version of the PS4 you own – be it the existing unit already in your home, the slimmed model, or the new hardcore iteration – as long as you have one. And with both new models due in stores over the coming months, with very reasonable price points attached, it's hard to imagine a scenario in which the Japanese giant doesn't dominate the coming holiday season.
A lot of talk has already centred on Scorpio, the mythical Xbox platform due next year, and that's exactly what Microsoft wanted when it hastily trotted out some talking heads at E3 a few months back. But without any real substance to show, the competing console is currently just static noise, filling the backdrop of a very cohesive mid-generation strategy. Sony wants its cake, and it wants to eat it, too – and by targeting both ends of the market, you can bet that it will get its wish.
The media briefing itself was a little too low-key for its own good, with Mark Cerny's excellent ASMR performance relaxing but not exactly inciting. And the lack of any audience reactions – a real press conference, rather than an E3 stage show – was probably misjudged given that the whole thing was streamed online in front of millions. But will that matter come 10th November when the new hardware arrives? I'll let you answer that one.
Sony's not looking to start a new generation – in fact, I get the impression that it doesn't even care whether you upgrade or not. All it wants to do is keep PS4 at the top of the tech tree, and ensure that you keep buying games and pay your PlayStation Plus fee. By going low-end and high-end all at the same time, the new line of PS4 products will help maximise its profit margins and keep its install base growing at record pace.
And the problem for its competitors is that, by the time they respond, it may already be too late.
Robert Ramsey, Associate Editor
Over the last few years, we've gotten used to seeing Sony put on a show. Glitzy montages, dramatic developer spiel, and megaton announcements paving the way for rabid fanboys to declare the company's ultimate victory in the gaming space. However, today, we saw a side of Sony that's been missing in action for quite some time; we saw a Sony that was on stage to do business. It was far more a traditional media briefing rather than an E3-style showcase.
And that's fine – it's kind of what I was expecting, to be honest. Earlier this week, I predicted that the Japanese firm would focus firmly on the new hardware, and that the event would be relatively short and snappy. Announce the Slim, announce the Pro, give us the headlines, and get outta there. For the most part, that's exactly what Sony did, barring a couple of gameplay demos and some soothing tech talk from Mark Cerny. Seriously though, I feel like I could listen to him prattle on about teraflops for hours upon hours without getting the least bit bored.
So, as a slice of entertainment – as the kind of press conference that we've come to love and/or hate – it wasn't all that exciting, and I suppose the same can be said of the PS4 Pro itself. I'm not entirely sure what I wanted to see from the supercharged console, but I feel like its reveal did fall a little bit flat. Whether it was Sony's messaging or the fact that its specifications leaked months ago, I don't know, but what I do know is that I'm not desperate to pre-order one. Yet.
However, I don't think that truly matters at the end of the day. With the Slim and the Pro, it's clear that Sony's trying to smother the market before the opposition has a real chance to get stuck in – and I honestly wouldn't be surprised to see both systems flying off the shelves this holiday. I think the price is right on either side, and the PlayStation maker actually did a solid job of making it sound like both consoles will have their place. For consumers, it's nice to have options, right?
All in all, I don't think anyone was absolutely blown away by the PlayStation Meeting as an event – but Sony's been playing a very clever game throughout this generation, and the company looks set to continue that trend.
---
Do you agree with our editors? What do you think of the PS4 Pro, and are you planning to purchase one of the new platforms any time soon? Up-res the comments section with your thoughts below.
How would you rate Sony's PlayStation Meeting 2016 press conference? (166 votes)
Very good

10

%
Good

34

%
Meh

29

%
Poor

14

%
Very poor

12

%
Please login to vote in this poll.