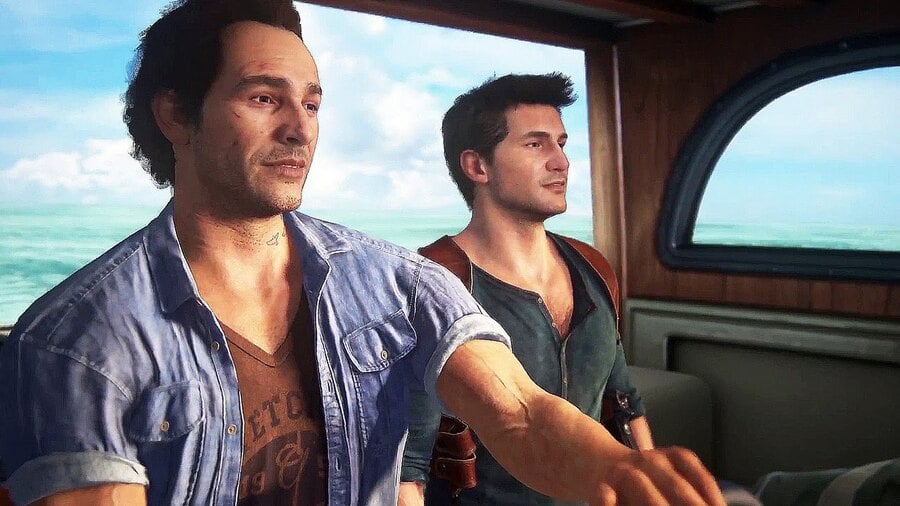 Anyone who's played an Uncharted game will know of Nathan Drake's insane ability to grip even the smallest environmental outcrop, but rather than hanging on for dear life, Uncharted 4: A Thief's End is actually enjoying its time at the top of the Japanese software charts for the second week in a row. The PlayStation 4 exclusive sold through another 21,155 copies, bringing its total sales to 149,879. Not too shabby.
Elsewhere, things are pretty bleak for new PlayStation releases. Mediocre first person shooter Homefront: The Revolution entered in third, but only shifted a dismal 9,422 copies, while much better first person shooter DOOM debuted in seventh, moving an even worse 6,164 units. Still, neither sunk lower than Battleborn, which sold through just 5,145 copies in eleventh place.
As for the hardware charts, the PlayStation 4 remained number one, but sales dropped by around 5000 units compared to the week prior. In other words, Nathan Drake's latest adventure is the only real bright spot for Sony this time around.
Hardware sales
PlayStation 4 – 18,430 (23,239)
New 3DS LL – 12,051 (13,623)
PlayStation Vita – 10,954 (12,299)
Wii U – 4,109 (3,896)
New 3DS – 2,552 (3,021)
PlayStation 3 – 1,001 (997)
3DS – 700 (823)
3DS LL – 103 (128)
Xbox One – 72 (115)
Software sales
[PS4] Uncharted 4: A Thief's End (SIE, 05/10/16) – 21,155 (149,879)
[3DS] Kirby: Planet Robobot (Nintendo, 04/29/16) – 19,383 (268,334)
[PS4] Homefront: The Revolution (Spike Chunsoft, 05/19/16) – 9,422 (New)
[3DS] Yo-kai Sangokushi (Level-5, 04/02/16) – 8,913 (518,492)
[PSV] Kenka Bancho Otome (Spike Chunsoft, 05/19/16) – 8,534 (New)
[PSV] Jikkyou Powerful Pro Baseball 2016 (Konami, 04/29/16) – 6,763 (126,073)
[PS4] Doom (Bethesda Softworks, 05/19/16) – 6,164 (New)
[PS4] Jikkyou Powerful Pro Baseball 2016 (Konami, 04/29/16) – 6,057 (140,448)
[3DS] My Hero Academia: Battle For All (05/19/16) – 5,607 (New)
[PSV] Minecraft: PlayStation Vita Edition (SIE, 03/19/15) – 5,564 (774,096)
[PS4] Battleborn (2K Games, 05/19/16) – 5,145 (New)
[Wii U] Splatoon (Nintendo, 05/28/15) – 5,038 (1,367,268)
[Wii U] Super Mario Maker (Nintendo, 09/10/15) – 4,088 (878,493)
[3DS] Dragon Quest Monsters: Joker 3 (Square Enix, 03/24/16) – 4,047 (596,369)
[PS3] Jikkyou Powerful Pro Baseball 2016 (Konami, 04/29/16) – 3,952 (80,392)
[PSV] Period Cube: Torikago no Amadeus (Idea Factory, 05/19/16) – 3,850 (New)
[Wii U] Star Fox Zero / Star Fox Guard Double Pack (Nintendo, 04/21/16) – 3,735 (36,177)
[3DS] Animal Crossing: New Leaf Happy Price Selection (Nintendo, 03/17/16) – 2,373 (47,974)
[3DS] Mario & Sonic at the Rio 2016 Olympic Games (Nintendo, 02/18/16) – 2,319 (161,048)
[PS4] Dying Light: The Following (Warner Bros., 04/21/16) – 2,118 (15,336)
[source 4gamer.net, via gematsu.com]