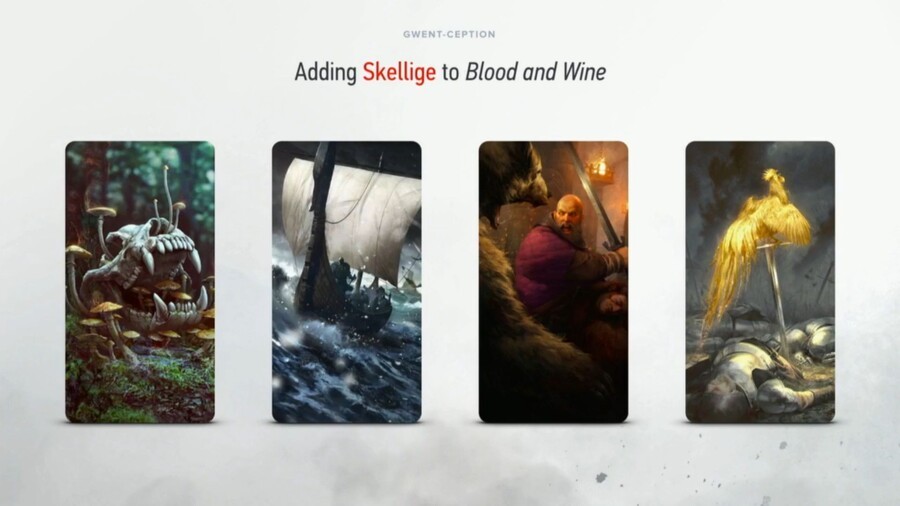 At a panel that discussed how card game Gwent came to appear in The Witcher 3: Wild Hunt, Polish developer CD Projekt Red shared news that more cards are headed to the title in the final expansion, Blood and Wine. Not only will there be new cards, but a fifth deck will also be making its way into the title.
While Blood and Wine will take place in the bright and colourful setting of Toussaint, the new deck will come in the form of Skellige, the Viking-esque collection of islands that appeared in the main game. The Skellige deck's primary colour will be purple, as CD Projekt Red showed off the backs of the cards.
After showing off what the backs look like, those at the panel were treated to the artwork for four specific cards. Only one was explained in depth, 'Mushroom', which will apparently turn berserker units into fuzzy little bears. The others were not spoken about at length, but the boat will supposedly function as a siege unit, while not much was said about the other two cards beyond their names, which are 'Madman Lugos' and 'Golden Cockerel'.
Additionally, towards the end of the panel, a fan asked about whether or not a mobile standalone version of Gwent may be on the horizon. While it was stated to be not currently in the works, Rafal Jaki, Business Development Manager at CD Projekt Red and Co-Creator of Gwent, recorded the crowd response to the possibility of such a thing. While much of the theatre had cleared by that point, the reaction was nothing short of deafening. Hopefully this is a good indicator of the demand for a mobile version.