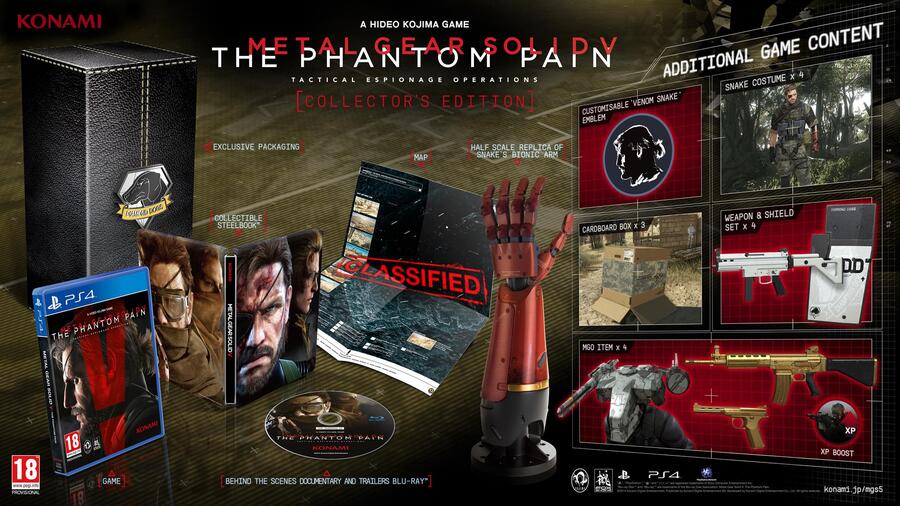 There's more drama surrounding Metal Gear Solid V: The Phantom Pain's collector's edition than a Hideo Kojima game itself. Reports are piling out of sites like Reddit and NeoGAF regarding delays to the bumper box set, which includes a copy of the game alongside a bionic arm and various other bits and bobs that have almost certainly been overpriced.
Here's the thing: it sounds like dozens upon dozens of people are not going to get their set on release day next week. The reason for the delay is not entirely clear yet, but some reports state that the Diamond Dogs lock on the exclusive packaging has not been properly manufactured. We're not sure on the source for that so take it with a pinch of salt, but we can believe it.
This isn't the only problem, though, as those who have received their bundles claim that they don't include the game's promised DLC codes. This means that all of the extra costumes and weapons advertised with the collector's edition are absent. Retailers are apparently going to email those over at a later date, but who knows how long this will take?
And just to add insult to injury, UK retailer GAME has had to cancel a slew of orders for both the standard and premium editions of the title following a processing error. "Our customer service and store teams are currently working to contact all those impacted and refund any over payment," a spokesperson said. "We apologise for any inconvenience caused."
Meanwhile, we're still waiting for our press copy to arrive...
[source reddit.com, via neogaf.com, vg247.com, facebook.com, mcvuk.com, vg247.com]