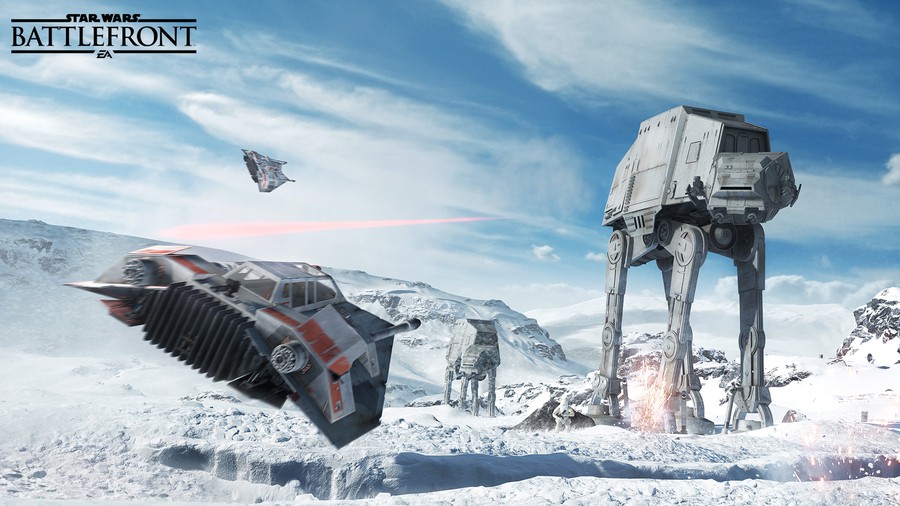 There's a lot of chatter about exclusives at the moment, but the Gamescom 2015 awards provide a small reminder of how little these matter in the grand scheme of things. Star Wars Battlefront will leave this year's German convention with no less than five awards, including Best of Show, Best PS4 Game, Best Online Multiplayer Game, and more. It also won the consumer's vote.
In truth, no PlayStation 4 exclusives made the cut, but this is partly due to the fact that big games like Uncharted 4: A Thief's End weren't playable on the show floor. Then again, even with Microsoft's wealth of 2015 releases, only Forza Motorsport 6 managed to muscle its way into the Best Racing Game and Best Simulation Game categories. Cuphead also nabbed best indie.
So, what can we learn from all of this? Well, nothing, it's just a set of awards – but we suppose that it is a reminder of just how big Star Wars Battlefront is going to be. Seriously, by the time this is ready to release, there's going to be so much hype surrounding the sci-fi series that it's going to absolutely, absolutely explode. And you just know that Sony's going to have a Storm Trooper-themed PS4 ready.
Gamescom 2015 Awards Winners

Best of gamescom
Star Wars Battlefront (Electronic Arts)
Most Wanted Consumer Award
Star Wars Battlefront (Electronic Arts)
Best Console Game Sony Playstation
Star Wars Battlefront (Electronic Arts)
Best Console Game Microsoft Xbox
Metal Gear Solid V: The Phantom Pain (Konami Digital Entertainment)
Best Console Game Nintendo Wii
Super Mario Maker (Nintendo)
Best Role Playing Game
Dark Souls 3 (Bandai Namco Entertainment)
Best Racing Game
Forza Motorsport 6 (Microsoft)
Best Action Game
Metal Gear Solid V: The Phantom Pain (Konami Digital Entertainment)
Best Simulation Game
Forza Motorsport 6 (Microsoft)
Best Sports Game
PES 2016 (Konami Digital Entertainment)
Best Family Game
LEGO Dimensions (Warner Bros. Interactive Entertainment)
Best Strategy Game
Unravel (Electronic Arts)
Best PC Game
Star Wars Battlefront (Electronic Arts)
Best Mobile Game (incl. Handheld, iOS, Android, Windows)
Legend of Zelda: Tri Force Heroes (Nintendo)
Best Social / Casual / Online Game
Super Mario Maker (Nintendo)
Best Online Multiplayer Game
Star Wars Battlefront (Electronic Arts)
Best Hardware (incl. Peripheral)
HTC Vive (HTC)
Best Indie
Cuphead (Studio MDHR)
[source gamescom-cologne.com]