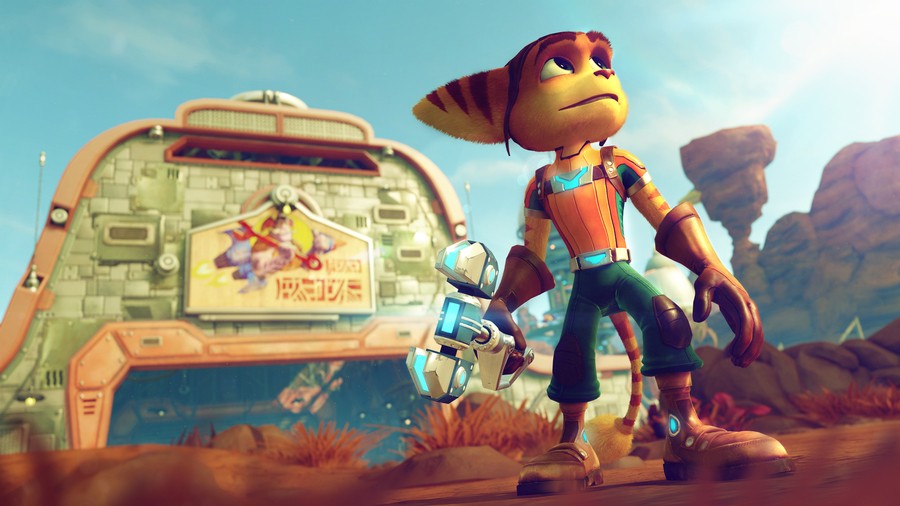 Wow! Insomniac Games has released the first footage of Ratchet & Clank's hotly anticipated PlayStation 4, er, reimagining – and it's looking absolutely stunning. Based on the Spring 2016 movie – which itself has been inspired by the original PlayStation 2 game – this is not a remaster in the traditional sense; it's an all-new game repurposed specifically for the PlayStation 4. And it honestly looks astounding from a pure graphical perspective.
As a re-imagining, the title will feature an all-new arsenal, influenced by the Future trilogy. This means that fan-favourites such as the Groovitron and Mr. Zurkon will be making the jump, alongside newcomers such as the Pixelizer – which pledges to turn foes into pixels. The brilliant Bouncer from Ratchet & Clank: Going Commando will also be joining the roster, but sadly you'll need to pre-order to obtain access to that.
Of course, it's not just the weapons that are changing. The title will also feature – take a deep breath – "modern controls, several new planets, new and updated gameplay segments, all-new Clank gameplay, all-new boss fights, new flight sequences, and more, all constructed to take advantage of the PS4's graphical prowess". The trailer embedded below shows off a chunk of gameplay interspersed with movie clips – it's all coming together nicely, no?
Meanwhile, this second video should give you a better look at the action uninterrupted. It focuses on the train station sequence from the original game, and should be instantly recognisable to fans of the franchise. Of course, it's looking much better these days – almost unbelievably so. Are you excited to take control of the galaxy's most loveable Lombax all over again? Place your best punch line in the comments section below.
[source blog.us.playstation.com, via blog.eu.playstation.com]