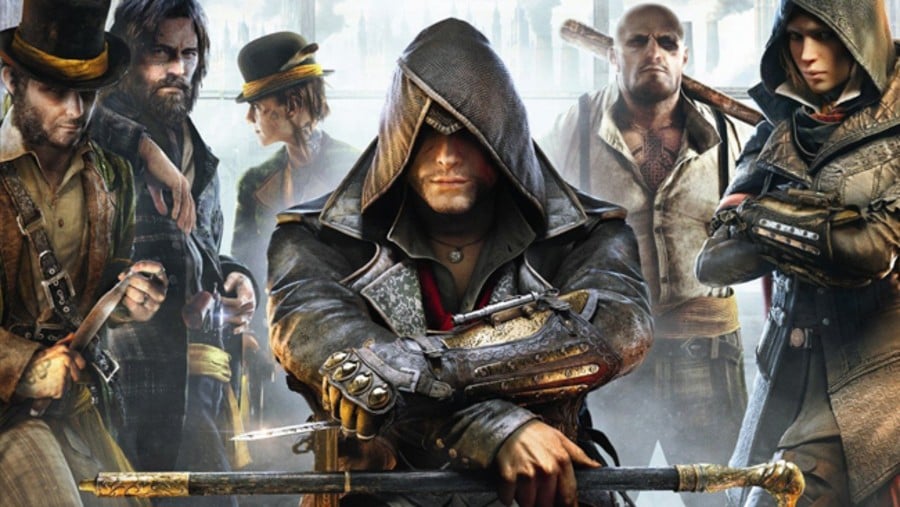 Victorian England is very much back in video game vogue. Following in the period footwear of The Order: 1886 and Bloodborne, publisher Ubisoft has revealed Assassin's Creed Syndicate – the first London-based outing in its uber-popular alternate history franchise. Perhaps in response to the fiasco that greeted flawed French foray Assassin's Creed Unity last year, the firm premiered its all-new regal romp as part of a 20 minute livestream. But just in case you missed the broadcast, what are the most important things that you need to know about the brand's inaugural English escapade?
There's no place like London
As was rumoured last year, Assassin's Creed Syndicate will take place in London towards the tail end of the Industrial Revolution. Perhaps coincidentally, developer Ubisoft Quebec has selected the year 1868, which is not to be confused with Ready at Dawn's divisive PlayStation 4 exclusive. It's an interesting period because England was gripped by change at the time: technological marvels were transforming the lives of many, with railways just one of the many inventions ushering the country into a new age.
Despite all of this, the gap between the working class and the rich grew dramatically, creating political unrest on the city's cobbled streets. This is where Syndicate's story comes in: you'll be working as an assassin, and recruiting the poorest of people to your cause as you rally an uprising against an ancient foe, the Templars. It's also, obviously, where the game's name comes from: you'll be ganging up against a common enemy, and you'll only ever be as strong as those people who choose to stand beside you.
Blood is thicker than water
For the first time in the franchise's storied history, Assassin's Creed Syndicate will star two primary protagonists: siblings Jacob and Evie Frye. You'll be able to toggle between these two characters on the fly when you're navigating the game's open world, but certain missions will require you to play as one or the other. As already alluded above, they'll be working together to free London from the oppression that it's currently gripped in – and hopefully their family bond will be stretched over the course of the story.
Do the locomotion with us
One area where Assassin's Creed Syndicate will differ from its predecessors is in navigation. While all of the usual parkour aspects will be present and correct, you'll now find yourself augmented with a Batman-esque rope launcher, which will allow you to attach to the top of buildings, and almost instantly pull yourself up. This should, in theory, make evasion much easier – but will also make foot-based traversal a much faster pastime. In previous entries, you'd have to scramble up and down buildings, and it could get tiresome; fortunately, that will no longer be the case.
Of course, that's if you even want to bother travelling by foot in the first place. Trains will be available, enabling you to navigate between London's various districts at record speed. Alternatively, you'll also be able to commandeer stage coaches, giving the entire game a Grand Theft Auto-esque vibe – albeit with a bit of a historical bent. The really cool thing is that all of these transportation methods will play into the free-running system, meaning that you'll be able to hitch a ride on unsuspecting carriages to escape, before changing course on foot to avoid arousing suspicion.
Going toe-to-toe
Ubisoft claims that it's completely revamped Assassin's Creed Syndicate's combat system from its predecessors, promising a faster and more visceral fighting format. With the Victorian setting, the studio's lessening the emphasis on swords and axes, with the inhabitants of London opting for street brawls instead. It's hard to really get a grasp on the fisticuffs from the videos, but it looks a lot more Batman: Arkham City-inspired than ever before. For the first time, you'll also be able to use the scenery to your advantage, too, employing barrels and hanging objects to take out your rivals.
London lovingly imagined for the PS4
As with last year's Assassin's Creed Unity, there'll be no PlayStation 3 version of Assassin's Creed Syndicate. This means that the developer's once again promising to push the power of the PS4 to its limits, and there's definitely some real artistry that's gone into rendering London's iconic skyline. The developer's being a little coy when it comes to the scale of the game's map, but we know that it'll be bigger than Paris, and will incorporate various boroughs from the city. Big Ben, St. Paul's Cathedral, the River Thames, and Waterloo are already confirmed – but expect more landmarks.
In fact, the studio's saying that it wants to explore some of the city's less-known areas as well, which makes sense when you consider that you'll be spending much of your time in the slums. Wherever you are, there'll be plenty of famous faces to interact with, which is now a series staple, of course. Charles Darwin and Charles Dickens – two of the most iconic names from the time – will appear in a couple of pre-order bonus missions, while today's broadcast also included Queen Victoria, who's certain to cameo. Then there are obviously the likes of Jack the Ripper, too.
Nine studios are working on the single player experience
Assassin's Creed Syndicate will be a single player only game, bucking the brand's penchant for competitive and co-operative multiplayer. Despite this, it's being worked on by an enormous pool of development talent, with Ubisoft Quebec leading development alongside the company's – deep breath – Montreal, Singapore, Annecy, Montpellier, Chengdu, Shanghai, and Kiev studios. UK-based Reflections is also helping out – presumably on the stage coach sections. It's a real global effort, then – hopefully it can pull everything into a cohesive whole.
---
Are you going gaga over this new entry in the Assassin's Creed franchise, or has it got you tutting like a dignitary to a peasant? Doff your hat in the comments section below.
How would you rate Assassin's Creed Syndicate's reveal? (58 votes)
Amazing, I've already pre-ordered my copy
16%
Meh, I want to learn a bit more
67%
Rubbish, I think I'll be skipping this release
17%
Please login to vote in this poll.