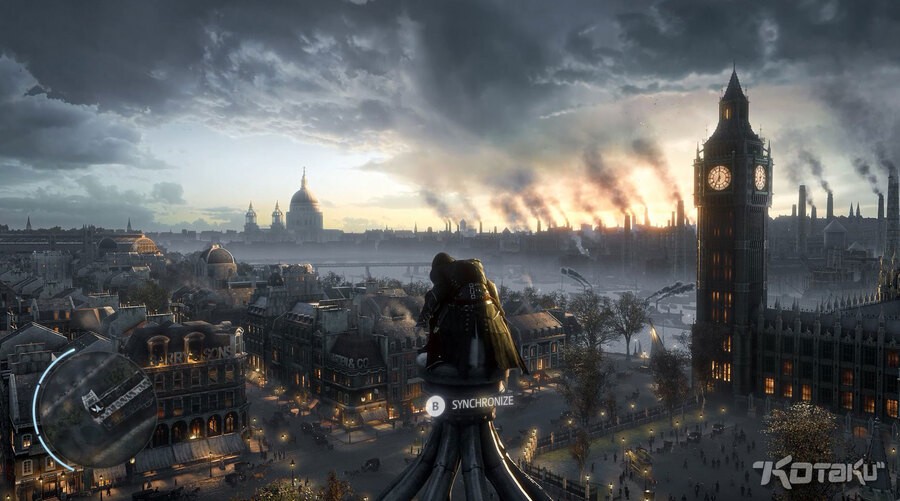 You wait years for a game set in Victorian London, and then two come along at once. Sony's ambitious The Order: 1886 may not be the only top hat sporting title to hit town next year, as Kotaku has dug up some very believable dirt on Ubisoft's next big blockbuster: Assassin's Creed Victory. Due out next year on the PlayStation 4, the release will purportedly see you whisked away to the gothic streets of England's capital, where you'll brawl on stage coaches and ride turn of the century trains.
According to the publication, Ubisoft Quebec is leading production on this instalment, which marks a change for the series, as it's typically been the domain of the French publisher's Montreal division. The buggy but occasionally exceptional Anvil Engine employed by Assassin's Creed Unity appears to be getting another run out, but the visuals look like a step forward for the series, especially in the embedded image of London's distinctive skyline. According to Kotaku, however, these are of "target gameplay footage".
The site actually got to watch seven minutes of the release in action, as part of a video presumably intended for internal purposes. Some of the highlights from the outlet's eyes-on report indicate that you'll be augmented with a grappling hook for this entry, and will also be able to change your appearance to sneak into new areas undetected; you may use some aristocratic headwear instead of a hood, for example, to gain access to parliament. There are also allusions to carriage racing and gambling, but nothing concrete.
Seeing as we've wanted an open world title like this since the beginning of time, we've got everything crossed that this marks a return to form for Ubisoft's primary open world property. The screenshots look absolutely gorgeous, but given the publisher's track record, may not be indicative of the final product. However, with the team having twelve months to respond to the woes of this year's release, we've got everything crossed that Victory turns out top notch. Requiescat in pace, Jack the Ripper.
Update: Ubisoft has now officially confirmed Assassin's Creed Victory. In a statement to IGN, a spokesperson said: "It is always unfortunate when internal assets, not intended for public consumption, are leaked. And, while we certainly welcome anticipation for all of our upcoming titles, we're disappointed for our fans, and our development team, that this conceptual asset is now public.
"The team in our Quebec studio has been hard at work on the particular game in question for the past few years, and we're excited to officially unveil what the studio has been working on at a later date. In the meantime, our number one priority is enhancing the experience of Assassin's Creed Unity for players."
[source kotaku.com]