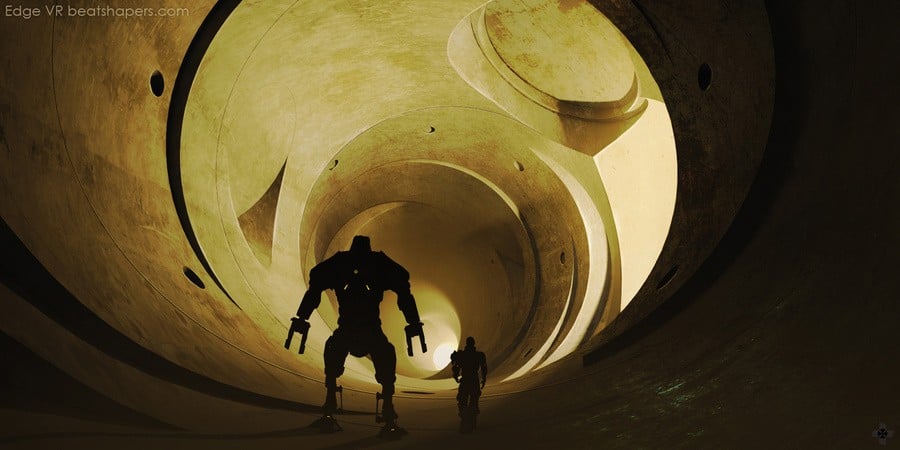 Sony announced Project Morpheus really early so that developers could experiment with it, and that's exactly what Ukrainian outfit Beatshapers has been up to. In addition to building its very own virtual reality headset out of the PlayStation Vita, the firm has also been busy beavering away on a title for the Japanese giant's PlayStation 4 accessory named EdgeVR – and in an exclusive interview with founder Alexey Menshikov, we were able to learn a little more about the release.
"[The game] has gone through a lot of changes, and we decided to focus on giving the player a new experience, rather than an action game as originally planned," he told us. The title was initially billed as a Mass Effect-esque action role-playing release, but it sounds like it will be adopting a more exploration-style structure in its final form. As far as we're concerned, that sounds much better suited to the all-new VR frontier.
"The game is about the journey of a man and a big robot, travelling on an unknown planet; both have their own skill sets, and these are useful in particular situations," he continued. "Currently, we don't have any weapon that the player controls, but nothing is final at this stage in development." The developer couldn't provide us with any gameplay images as the project is still early, but did send some artwork, which shows off the aforementioned characters in their futuristic surroundings.
"We're trying to utilise a second screen or companion application to achieve co-op gameplay, but we're not sure if this will make it into the finished project," the developer added, hinting that the two characters may have to work together to progress through the game. "We're using awesome Bitsquid Tech with physics-based rendering," he concluded on the subject of the visuals. "I'll keep you updated when we're ready to reveal the game."
You can learn a little more about the organisation's VR experiments through here. Are you intrigued by this forthcoming Project Morpheus title, or are you yet to be convinced by the accessory in general? Strap yourself in via the comments section below.
---
Thanks so much to Alexey Menshikov for taking the time to talk to us. You can find out more about Beatshapers on Twitter and Facebook.