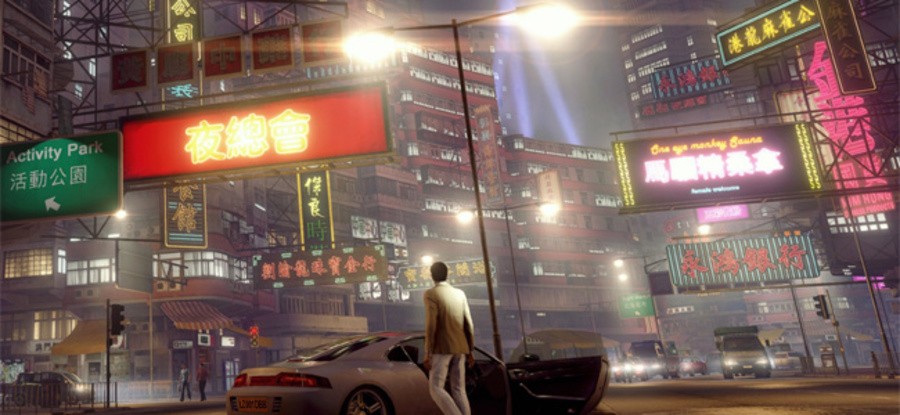 Many would argue that the original Sleeping Dogs was the overlooked sandbox gem of the last generation. The title's setting of Hong Kong had a quirky feel to it, and gameplay mixed exploration, kung-fu combat, and a surprisingly enjoyable story. It certainly wasn't as polished or as vast in scope as something like Grand Theft Auto V, but perhaps it didn't need to be, as Sleeping Dogs possessed a certain passion that a far larger budget may have tarnished. Thankfully for those who didn't get to step into the shoes of protagonist Wei Shen on the PlayStation 3, the release is speeding onto Sony's new hardware – but how does it improve upon what was already a brilliant oriental romp?
PC gamers will already know how good United Front's creation can look on a decent rig, and that level of detail, from what we could tell, is mostly present here. The rain soaked streets of the city look much more alluring, while there's a noticeable improvement in the lighting department, with things looking particularly good at night, as dingy alleys and bustling commercial areas are illuminated in a realistic manner. The draw distance has also been tweaked, providing a better impression of the sprawling location, allowing you to pick out impressively detailed buildings on the horizon.
As far as gameplay goes, however, there isn't much new to see here. Combat is still brutal and boasts a weighty, satisfying feel, while driving retains its arcadey nature with the brilliant ramming system left intact. Meanwhile, the art of beating down thugs has supposedly been tweaked to make fights a little more challenging, but we struggled to pick up on any noticeable difference as we busted faces and broke legs. Perhaps these alterations will occur later in the release, but, by and large, it seems like if you were a whirlwind of kung-fu chaos on the PS3, you'll have no trouble here – especially since the game's sometimes jittery car handling appears to have been subdued due to the DualShock 4's oh so accurate analog sticks.
Sleeping Dogs: Definitive Edition should be the perfect starting point for anyone who didn't sample a pork bun on last-gen hardware, but it may well be worth a punt if you'd like to experience Wei's tale of bloody brutality all over again. Sony's new machine will no doubt give the title a little more atmosphere, and completionists will be happy to know that this retread comes with all of the property's DLC, which includes the ridiculous Nightmare in North Point and post-game expansion, Year of the Snake. But surely, the Definitive Edition's main attraction will be listening to Wei butcher Take on Me once again – only this time, his chirpy little singing face will be rendered in glorious high definition.
---
Are you already booking a flight back to the lively streets of Hong Kong, or have you had your fill of being an undercover killing machine? Start up your blood stained ice chipper in the comments section below.